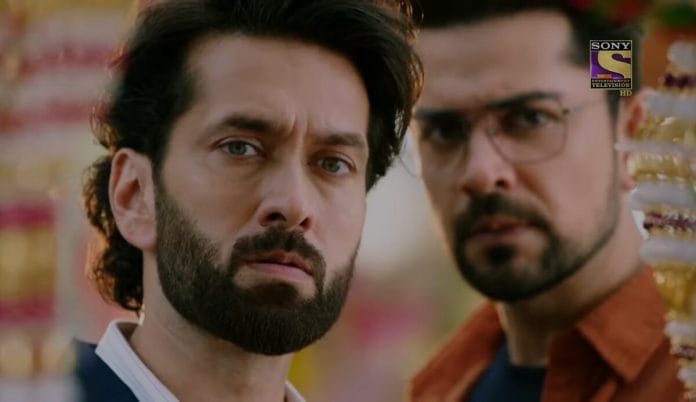 Bade Achhe Lagte Hain Spoilers, Upcoming Story, Latest Gossip , Future Story, Latest News and Upcoming Twist on tellyexpress.com
In Bade Achche Lagte Hain, with Ram doubting if his dad's accident was planned, the truth about Varun helping Shashi steal some important evidences come out. This creates a doubt between the couple Ram and Priya! On the other hand, with Nandini eyeing Ram's will. It will be interesting to watch if Nandini gets successful in changing the will according to her!
In the on going track, Priya and Krish catch Varun red handed so he makes up a story how he wanted money to send Ishan abroad. Priya believes his story but asks him to call Shashi and help them trap him. Varun agrees. Varun tells Shashi about it and he gets upset. While Priya fears if Mahender is involved with Shashi in past. Later, Nandini talks to Priya and asks her not to disown them after Ram as he has name the will in her name. Priya assures Nandini she will talk to Ram. In thier room, Ram has decorated the house for his dad's birthday so he asks Priya not to talk about anything else other than dad. Priya agrees, but when they get drunk Priya asks Ram to divide the property in half between her and Nandini. Later, Ram consoles Priya and they romance. Next day, Priya gets a nightmare remembering how Mahender got Varun for Sara. Priya goes to Meera and tries to talk to her. Meera worries seeing Priya put allegations on Varun. To protect her two daughter's marriages, she lies saying she had donr a background check on Varun and it was clean. Meera apologies to Priya in her thoughts fot lying. On the other hand, Varun comes to meet Krish while Ram also comes. Ram gets shocked knowing about Varun's confrontation done by Priya. Ram wonders why didn't Priya tell him. Ram and Krish make Varun call and bring Shashi there. Later, Shashi doesn't show up and his driver comes warn Varun. Ram gets furious over Varun but seeing Ishan, Ram gets cooled off. Nandini gets to know about Varun's involvement and thinks to create a scene and steal the will using Mami. Before the puja kept for Virender, Shubham makes a scene with confronting Priya over hiding Varun's involvement. Ram too gets upset and questions Priya and her loyalty towards kapoor family.
In the upcoming episodes, Ram will come to Sood house to ask Priya for a favour. Priya will promise to do as he says.
Will Krish help Ram find the murder? What role Varun has in Virender's accident? Will Mahender be successful in his mission? Will Ram put forward his doubts infront of Priya? How will Ram find the truth about his dad's murder? Keep following this space for more information about your favourite shows!