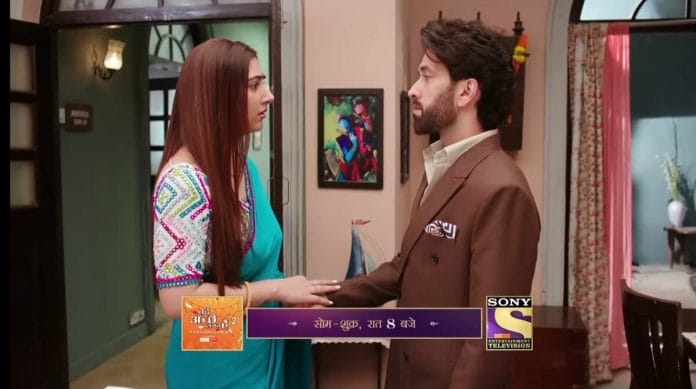 Bade Achhe Lagte Hain Spoilers, Upcoming Story, Latest Gossip , Future Story, Latest News and Upcoming Twist on tellyexpress.com
In Bade Achche Lagte Hain, with Ram doubting if his dad's accident was planned, the truth about Varun helping Shashi steal some important evidences come out. This creates a doubt between the couple Ram and Priya! On the other hand, with Nandini eyeing Ram's will. It will be interesting to watch if Nandini gets successful in changing the will according to her!
In the on going track, Shubham makes a scene with confronting Priya over hiding Varun's involvement. Ram too gets upset and questions Priya and her loyalty towards kapoor family. Nandini asks them to let it go but Ram keeps being upset on Priya. Just before the puja, the number plate is revealed and it's shown how Mami found the number plate with Priya's items. Priya says she didn't know about this, she got it from Meera and might be of Mahender. Nandini creates a scene saying Mahender only killed Virender and Priya tried to hide it. Ram tries to support Priya but with remembering how this number plate was missing from that day, he gets suspicious. Priya tries to explain herself but Ram doesn't trust her so Meera takes Priya from there with her. Ram decides to focus on the case and catch Varun. Priya breaks down and thinks she has lost Ram. Meera pledges to save both her daughter's marriage. Priya sneaks inside Mahender's house and finds her purse she lost during her kidnapping. Varun gets to know Ram is suspecting him so he meets Mahender where Mahender reveals how Varun was the one driving the car on the day of accident. Priya records this all on her phone. Here, Ram and Krish ask Meera for telling them about Varun, but she remains silent. Later, Priya calls Krish to Mahender's house. When Priya confronts Mahender and Varun. Mahender tries to kill Priya when Ram comes and makes them arrested. Priya and Ram express their love to each other, but then, Ram asks for a help from Priya. Ram shows the witness statement of Meera the night the accident happen. Priya is not ready to believe so Ram asks her to choose between him and Meera.
In the upcoming episodes, Shivi will fall from the stairs due to Ishan's push. Priya will take the blame and get arrested as Shivi will die.
Will Krish help Ram find the murder? What role Varun has in Virender's accident? Will Mahender be successful in his mission? Will Ram put forward his doubts infront of Priya? How will Ram find the truth about his dad's murder? Keep following this space for more information about your favourite shows!