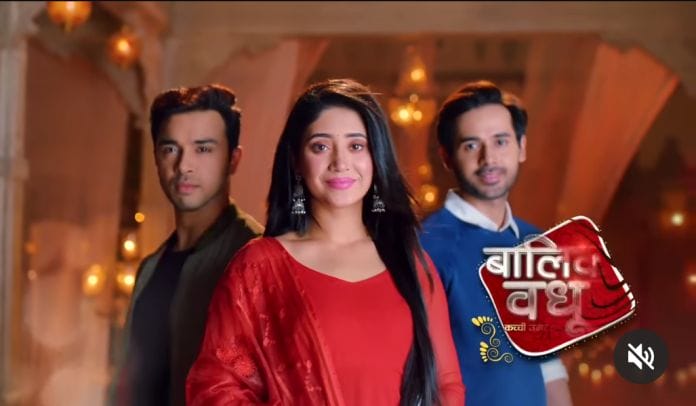 Balika Vadhu 2 3rd February 2022 Written Update on TellyExpress.com
The episode starts with Anandi asking Anand why he has come to meet her and starts scolding him without even listening to his explanation for not defending her infront of Ishana. Anand asks her to keep quiet and calls Ishana. Ishana asks Anandi for forgiveness for talking rudely and raising hand on her. She recalls how Bhairavi had asked her to ask forgiveness from Anandi if she wants to maintain good image infront of Anand. Jigar comes there and gets triggered again seeing Ishana.
Anandi asks him what is he trying to say and Ishana thinks that may be Jigar had seen her burning the box and asks Anand if they can leave as they are getting late for presentation. Anandi gives presentation and client Mrs Mehta gets very impressed with the designs. She praises Anand but he gives all the credit to Anandi. Mrs Mehta gives them the deal on condition that Anandi should be leading it. Anand readily agrees but Ishana stops him before signing the papers. Ishana asks Anand to take Bhairavi's permission and tries to manipulate him but he says otherwise and signs the deal. Anandi thinks she should ask forgiveness from Anand.
Mrs Mehta asks Anandi to display their designs by evening. Anandi says she will arrange the event. Anand and Ishana are waiting outside. Ishana sees Anandi coming and intentionally makes her misunderstand that Anand asked Ishana to ask forgiveness from Anandi just for his work. Anandi gets angry and thinks Anand has changed so much. Anandi tells Anand that they need to display designs in the evening and leaves from there. Ishana tells Bhairavi about this misunderstanding but Bhairavi tells her not to underestimated Anand and Anandi's bond.
Bhairavi tells Ishana she wants to get her and Anand's engagement finalized. Ishana gets very happy. Anandi is preparing for the event and Anand tells that no agency is ready to supply models for event in such short notice of time. Anandi tells him not to worry about it and she will manage as its her responsibility. Ishana comes and says Anandi will surely manage and tells Anand not to bother. Anandi tells that all NGO ladies will be their models tonight. Ishana mocks her but Anand says its an amazing idea and will definitely work for them.
Anandi tells Bhairavi and Sejal about the same and give them their design, she also gives one short dress to Ishana as she can carry it well. Investors come and ask about Anandi, Anand says he will call her. He comes to room and gets shocked to see Ishana sitting with sprained ankle and she says she can't do ramp walk, she tells Anandi to wear the dress instead. She recalls how she had damaged the chain of dress so that Anandi will face wardrobe malfunction. The episode ends with Anand wondering if Anandi is backing out last moment but gets stunned seeing her coming wearing the dress.
Click to read