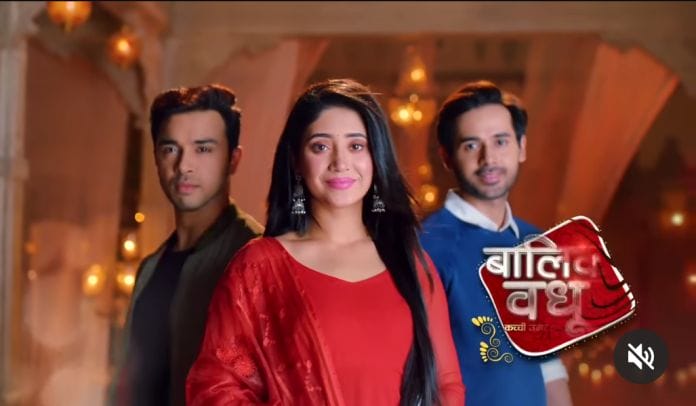 Balika Vadhu 2 4th February 2022 Written Update on TellyExpress.com
The episode starts with Sejal telling Anandi if she is comfortable in the short dress, Anandi says she will manage. Ishana starts the event with NGO ladies on the stage. Anandi goes to kitchen and feels bit uncomfortable with the dress, Anand also goes and tells her not to do it if she is feeling uneasy. Anandi misunderstands his intentions and scolds him. Anand sees Anandi's dress zip is open and tries to inform her about it. Before Anand can tell her, another girl calls her for help and sees goes without listening.
Ishana makes announcement of Anandi coming on stage as show stopper. Anand tries to stop Anandi but she wears earphones. Anand forcefully stops her and makes her realize about her zip. She gets shocked and wonders what to do. Anand calls waiter and asks him to do something. Powersupply cuts off and Ishana wonders what happened. She asks clients to wait as there is some technical issues. Electricity comes back and Ishana wonders where Anandi is. Anandi confidently walks on the ramp, she has used dupatta to wrap stylishly and cover the damaged zip.
Anand smiles happily seeing her. Clients praise them a lot and gives them the deal. Anandi thanks Anand for saving her from wardrobe malfunction and such big embarrassing situation. Ishana congratulates Anand for the success but he gives the credit to Anandi. He wonders where did Anandi go. Anandi comes back in saree and Anand gets stunned seeing her. He remains mesmerized by her. Anandi meets Anand and Ishana and while Anandi and Anand are talking Ishana tries to take Anand with her to click pictures however he asks her to go and stays back to talk to Anandi.
While Anandi is going her saree pallu gets stuck in Anand's shirt. He looks dreamily at her and cannot take it out. Ishana feels angry seeing them so close. Anandi removes it and goes to talk to Bhairavi. Bhairavi congratulates Anandi for successful show and Anandi is about to tell her about Diya, she says she met Diya in morning but before she could complete Ishana angrily breaks a glass which startles them. Bhairavi goes to Ishana and tells her that she needs to calm down. Ishana tells that she has been trying so much to make Anandi fall down but she keeps getting successful and getting closer to Anand.
Bhairavi tells Ishana not to worry about Anandi, as three years back Anand had proposed her but she rejected him. Bhairavi tells her to focus on winning Anand's heart. Jigar sees Ishana and tries to tell about her to Anandi and Sejal. Ishana thinks Jigar wants to expose her so she goes and deviates their attention and says Jigar probably wants food. Sejal agrees and goes to feed him food. Ishana mixes something in water and gives to Sejal to feed Jigar and episode ends with Sejal saying she is going home with Jigar.
Click to read: