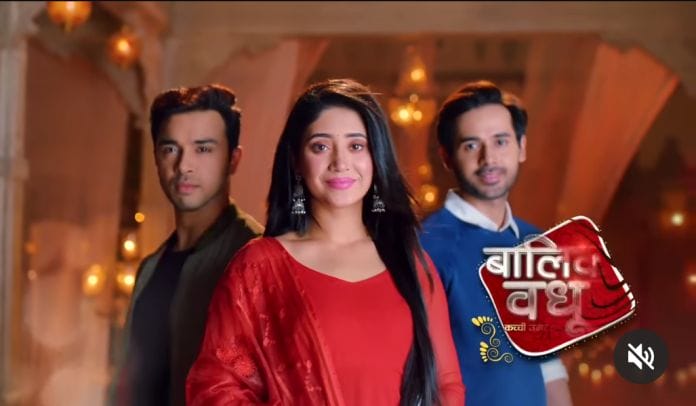 Balika Vadhu 2 7th February 2022 Written Update on TellyExpress.com
The episode starts with doctor checking Jigar, he says all the vitals of Jigar are normal so he is out of danger. Anandi asks why did he get sudden attack. Ishana panics but doctor said it may be that he was overstressed with speech therapy. Anandi is still worried. Anand tells Anandi that clients are very happy and waiting for next deal, Anandi says its good but doesn't look happy. Anand tells her if she is not happy, she says she is happy as it was everyone's hardwork but she was thinking about something else.
Anandi says she hopes Jigar gets well soon which disappoints Anand. He says he will leave but suddenly gets shocked seeing Diya coming there with her luggage. Anandi also gets perplexed seeing Diya. Bhairavi tells Diya it must be her usual fights with Vikrant. Diya says she doesn't want to talk with him. Bhairavi tells her to take her time and they will talk later. Anand scolds Bhairavi for not informing him about Diya's life. Bhairavi says that its nothing serious, since Diya and Vikrant got married, they keep having arguments and then Vikrant comes and apologizes and they stay happily again.
Anandi tells Sejal that its not a small issue, when she had seen Diya earlier she was looking really disturbed and when Anandi asked her about it she avoided the topic, she says she tried to talk to Bhairavi also about this matter but could not finish the conversation. Anand tells Bhairavi that he hopes she is right but he won't feel comfortable unless he himself talks to Diya. Bhairavi tells him to give her sometime. Next day Diya is very upset and doesn't talk at all.
Anandi takes Diya along with her to NGO where they work and introduces her to all the team members, Anandi plays songs and makes Diya dance, she smiles and dances with them. Anand comes there and gets surprised seeing her. Anandi signs him not to say anything. He thinks finally Diya is smiling just because of Anandi and Anand smiles too. Three of them happily return back home but gets shocked to see Vikrant sitting there with Bhairavi and Ishana. Ishana tells that she has called him as Diya wasn't talking so she thought they can talk face to face.
Anandi scolds her for always trying to interfere. She tells if Diya wasn't sharing it must be because she wanted more time or because the issue is not so small this time. Anandi scolds Ishana but Ishana starts insulting Anandi instead. She tells that Anandi doesn't understand the value of relationships as she became orphan at a young age as her parents passed away. Anand shuts Ishana and tells that no one understands value of relationship better than Anandi, he praises her and takes a stand for Anandi which makes Ishana get more disappointed.
Click to read