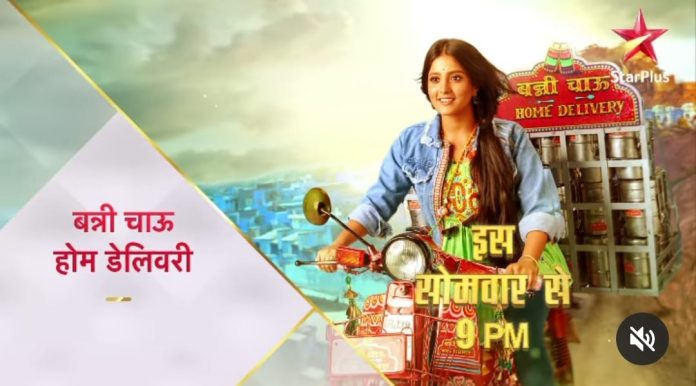 Banni Chow Home Delivery 4th August 2022 Written Update on TellyExpress.com
The episode starts with Banni announcing she will marry Yuvan and warning the Basti people to not touch Yuvan. Devraj and Maamisa feel happy. Raja says she is lying to save Yuvan and she is just a lover. Devraj warns him to talk with respect as Banni is going to be daughter in law of Rathod's and we are feeling lucky to get her.
He asks Viraj and others to listen that if anyone points to Banni then it's like pointing to Rathod's family so be careful. He announces he will perform Banni and Yuvan's marriage today itself, in front of them. Yuvan says Dadu. Devraj asks him to finish his words. Devraj asks them to attend the marriage of Yuvan and Manini. Vishnu looks unhappy. Viraj says Manini won't let this marriage happen. He goes to bring her.
Banni places carriages in the kitchen. Vishnu says this is the first time I'm seeing you getting defeated and asks Banni why she is marrying a mentally imbalanced man. Banni says Mom asked me to marry a person who loves me and Yuvan loves me so much. Vishnu asks her to not complicate her life by marrying him as she gets a good husband.
Banni says I may get a good husband but don't know if Yuvan gets Banni or not so it's a decision for both of us and I will become a relief for Yuvan. Vishnu says she will become alone there. Banni says Devraj, Sulekha, and Yuvan will support her. Banni praises the love and care of Yuvan. She tells Vishnu that she is lucky.
Yuvan recalls that his mom gets angry if he breaks his promise. The videographer places the camera aside which is on. Banni says Yuvan will never leave me like my Dad left my mom. Yuvan tells Devraj that he can't marry Banni because of his promise.
Devraj smiles and says your mom will feel happy with this marriage. Yuvan smiles but says he can't marry. Videos get recorded. Devraj says Banni has to face problems if he back out from this marriage. He tells him that he can break his promise as he is telling him and assures him that his mom won't get angry.
Vishnu says you have to fight every moment if you marry him. Banni says every relationship has up and downs and it takes some time to adjust with his family. Vishnu asks her to think with her brain. Banni tells him she decides of marrying Yuvan with her heart. Yuvan asks Dadu if he tells his Mom. Devraj agrees and tells her mom. Yuvan feels happy. Devraj asks decorators to ready the venue quickly. Banni calls Devraj and tells him she can't do this marriage.
Episode ends.
Precap – Yuvan will sit on his feet and holds Banni hand happily. Veer will inform Manini that Devraj is getting Banni married to Yuvan. She asks him to stop the marriage for 2 hours till then they reach. Veer threatens to burn the colony if they perform the marriage.
The episode starts with Devraj telling Banni that love is needed in any relationship and Yuvan loves you so much and he can do anything for you. Devraj makes her recall how much Yuvan loves and cares for her. He says Yuvan will be the happiest one if you achieve your dreams. Banni thinks Devraj's words are correct. She comes to the realization to hear the breaking sound. Raja asks colony people to break the carriages to destroy the business of Banni and in this way, she will leave our colony. Yuvan stops them by protecting the carriages.
Manini and Hemant learn everyone left and they didn't find Viraj. Manini says it's all plan of Maama sa. She calls Veer and asks him to check Banni's place and tells him that she needs Viraj immediately. Banni comes out. Yuvan says it's a mistake of him and Banni is innocent. He asks them to punish him as he wants Banni to get successful in her business.
Colony people say Yuvan will leave the place if they make Banni leave. They hold Banni and try to hit her with a slipper. Yuvan stands in front of her and gets hurt instead of her. Banni recalls the difference between Yuvan and her Dad. Yuvan tells Banni that he can tolerate anything but not see her crying. He gives her mom a photo.
Click to read