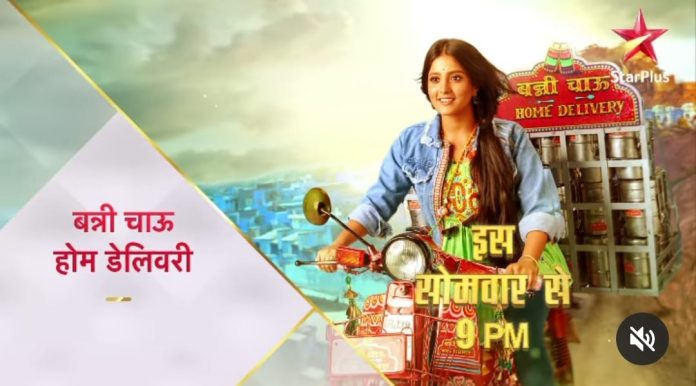 Banni Chow Home Delivery 5th August 2022 Written Update on TellyExpress.com
The episode starts with Banni telling to Devraj that she has to find out who is the one that took our photos and distributed them in the city. Banni says she wants to marry not under force for this it is necessary to find out who is the one that did this.
This marriage is my mom's dream if I sit with this stain then my mom will not be able stay peaceful. Banni says she will find out who did it. Mamisa and Mamosa asks what they have to do. Devraj says we have to do something and we have to do something before Hemanth and Manini come here.
Viraj comes and tells Veer that Banni has agreed to marry Yuvan and Devraj is doing this marriage in this Basti.
Veer calls Manini and tells Manini Devraj is doing Yuvan's marriage with Banni. Manini says we are going to come in 2 and half hours. You have to do something to stop this marriage. Hemanth says he will not leave this Banni. Manini tells this is happening because Devraj is with Banni and he has to talk to Devraj.
Banni talks to Vishnu and thinks who might have distributed those photos. Yuvan comes and Vishnu tells to ask Yuvan as he might have her question's answer. Yuvan comes and talks to Banni and says he saw in a movie when a new couple get married they do things all half and tells her to give her tension half to him then she will only have half the tension. Banni asks what other things he had learnt.
Yuvan gets on his knees and tells a romantic dialogue. Banni asks if he knows the meaning of what he said. Yuvan says he doesn't but when the hero says this the heroine smiles and asks her to smile. Banni says her problem with Yuvan. Yuvan says when someone does something wrong they know it in their heart. Banni gets an idea from talking to Yuvan.
Banni calls all the Basti vale and says to them that she was not going to marry but she is going to prove today that the crime you made on me is false. One of her customers is a hacker called Anshuman and he will find with whose phone their photos have been sent and who bought the Sim card. Banni says she will go.
Banni's Mamisa says she doesn't know who this Anshuman is but she asks Devraj to stop Banni and she will go to him and talk to him. Banni's Mamisa threatens that if she got caught she will take his name. As he made this deal.
Devraj goes to Yuvan and puts his hand on Yuvan and acts as he is hurt and tells Banni to get something. Banni is distracted with it. Manini prays to God so that this marriage is stopped.
Mamisa goes to Anshuman and gives him money and says not to take her name and blame it on someone else that distributed the photos.
Veer and family members come and tell them that this marriage should not happen. Banni says if they come as guests they will be treated as guests and if they cause trouble then they will be treated as trouble. Veer says he is not afraid of her and tells Viraj to call his men. Veer and family go away.
Banni gets a call from Anshuman and Banni finds out it is Mamisa. Mamisa comes and says she went to Anshuman and took the name of the one who sent the photos. Mamisa tells to take care of him. Banni takes a knife and gives it to Mamisa and tells her to stab her. Mamisa asks what is she doing. Banni says I found out you are the one that took the photos and sent it to people. Anshuman has told me everything.
Episode ends
Precap – It is to shown that Banni and Yuvan are getting ready to marry. They are in the ritual. Manini gets out of her car and walks the stairs and thinks she cannot let this marriage happen.
The episode starts with Banni announcing she will marry Yuvan and warning the Basti people to not touch Yuvan. Devraj and Maamisa feel happy. Raja says she is lying to save Yuvan and she is just a lover. Devraj warns him to talk with respect as Banni is going to be daughter in law of Rathod's and we are feeling lucky to get her.
He asks Viraj and others to listen that if anyone points to Banni then it's like pointing to Rathod's family so be careful. He announces he will perform Banni and Yuvan's marriage today itself, in front of them. Yuvan says Dadu. Devraj asks him to finish his words. Devraj asks them to attend the marriage of Yuvan and Manini. Vishnu looks unhappy. Viraj says Manini won't let this marriage happen. He goes to bring her.
Banni places carriages in the kitchen. Vishnu says this is the first time I'm seeing you getting defeated and asks Banni why she is marrying a mentally imbalanced man. Banni says Mom asked me to marry a person who loves me and Yuvan loves me so much. Vishnu asks her to not complicate her life by marrying him as she gets a good husband.
Click to read