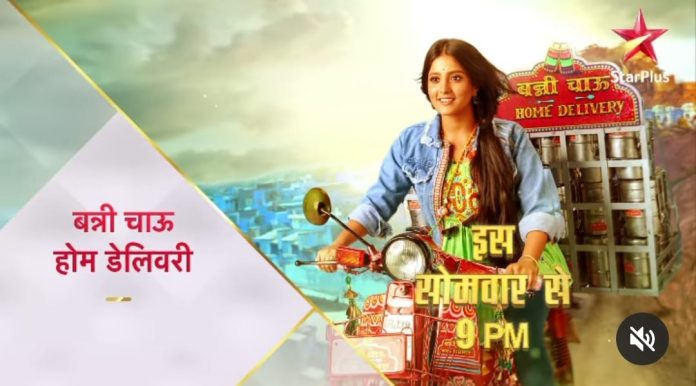 Banni Chow Home Delivery 6th August 2022 Written Update on TellyExpress.com
The episode starts with Banni confronting Mamisa and Mamusa why they played with their niece's respect. Mamisa says they saw her in that condition and circulated that photo to make her agree to marry Yuvan as Raj eyed her. Mamusa says they did it to save her. Banni asks them to stop lying and you don't care about your niece that's why you tried to ruin my reputation. She breaks down saying she doesn't have anyone. Yuvan asks her to not cry saying he is with her. He asks her to share her tears with him as they are partners. Banni apologizes to Devraj. Vishnu scolds her parents for their act. He falls on Banni's feet and apologizes to her. Banni asks him to not apologize to her as he didn't do any mistake. She says they have to get their punishment.
Banni takes out Mamisa and Mamusa. She reveals the truth in front of the Colony people. Colony people ask won't they have the shame to play with their niece's respect. Banni says they did it in greed. She announces she cut all ties with her aunt and uncle. Mamusa tries to talk with her but she addresses him by his name and tells him she won't change her decision. Banni asks Devraj to take her and make her marry Yuvan quickly as she can't stay there. Yuvan takes her.
Mamisa tells Devraj that he has to give them more money for hiding his truth. Viraj calls Manini. She tells they will reach in half an hour. Viraj announces Manini is coming. Veer tells Devraj that this marriage doesn't happen. Devraj looks on. At the Haldi ritual, Sulekha tells Banni that they are with her. She applies Haldi. Myra asks her to smile. Banni says she is unable to smile after seeing the way his Mamu and Mamisa cheated on her. Vishnu comes there. He says your brother didn't change. Hope you won't forget me. Banni nods no and she makes him apply Haldi. Myra says your heart is broken but combined with Yuvan. Banni asks why Yuvan is fighting with the Mehendi people. Myra says it's for you. Yuvan smiles seeing her. Everyone applies Haldi to Banni. Yuvan dances with everyone and makes Banni join him. Devraj thinks marriage won't happen if Manini comes here. Viraj stops pandit.
Manini arrives there with Hemanth. They go inside with family members and notice mandap is empty and no one at home. Manini says marriage might be happening somewhere. Hemant asks where to search them. Manini finds Devraj's letter in which it mentioned that ready to welcome Banni to their house as Yuvan's wife. Manini asks them to search them. Sulekha says to Devraj that he did good by changing the venue. Devraj says he won't get peace until marriage is done. Yuvan applies mehendi to Banni. Sulekha asks why he is applying. Yuvan says Mehendi person smokes and I don't want to him touch my Banni. Devraj asks Myra to bring Banni to the mandap. He thinks how to stop Manini.
Episode ends.
Precap – Yuvan plays violin while Banni is entering the mandap. He makes her wear his coat. She makes him wear moon. Manini thinks she won't let this marriage happen by entering the venue.
Click to read