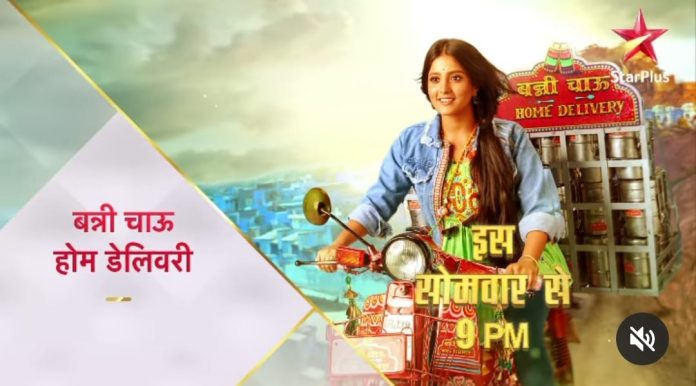 Banni Chow Home Delivery 8th June 2022 Written Update on TellyExpress.com
The episode starts with Banni asking Manini to learn Lullaby from her so she can make Yuvan make sleep from tomorrow onwards. Dadi says Banni is true. She asks Manini to learn it. Manini says she doesn't have time. Banni says in this world child is the mother's priority and can't you understand it?
Manini says Papa it's because of you this roadside waste girl is getting a chance to talk to me. Banni warns her to stop insulting her as today I'm feeding 150 and in the future, I may feed 15 lakh people but I will stop if Yuvan wants to hear a lullaby from me as I have a heart unlike you. Manini indirectly warns Devraj.
Niyati says Banni is a rounder and manages Yuvan easily. Manini asks her to not praise Banni in front of her. Manini asks Banni to not come with food as he will eat with us tomorrow as it's Sri Rama Navami. Banni asks her to make Yuvan participate in the pooja.
The next day, Myra serves pizza to Devraj. Devraj asks how pizza is served when it's festival time. Manini says Niyati wants everyone to mingle on this auspicious day that's why she arranged this pooja so understand her intentions. Devraj points to her that family is incomplete without Yuvan's presence. Manini says Niyati is going to bring him. Niyati goes. Manini asks Devraj to go for aarti in the temple.
Banni does pooja to her second hand fridge. Vishnu asks why she prepared kheer as she doesn't need to take food to Yuvan. Banni says Yuvan is not moving from my mind as I never saw someone facing problems like him hope they make him participate in the pooja. She says she will serve Kheer to Ram Ji as Bhogh. Ram comes there and teases her again saying he needs her love too.
Yuvan waits for Banni and he feels disappointed seeing Niyati. She asks him to participate in the pooja. He tells her he will come to pooja with Banni. Niyati recalls how Manini suggests her to impress Devraj during the Ram Navami festival as Banni is on leave today. Charmi tells her husband that Banni is on leave. Viraj promises her that he will make her get entertained with Yuvan. Vishnu asks Ram to behave well. Raja doesn't listen and asks her to marry him. Banni asks him to eat chillies to marry her.
Niyati says she is his Pari, not Banni. He asks her to change Jamun to rasgulla. She tells him that she doesn't do small magics. Yuvan Jamun on Niyati. Raja denies eating. Banni tells him she will pay his uncle's debts and warns him to stay away. Yuvan asks her to clean herself with magic.
Viraj and Charmi come there. Yuvan waits for Banni. Viraj sends Niyati to change her dress and convince Yuvan to dress like a woman if he wants to be with Banni. Yuvan agrees to become a woman and asks how can he become like a lady? Charmi agrees to help him.
Episode ends.
Recap – Niyati informs Manini how Viraj brought Yuvan to the party like a lady. Myra video calls Banni and tells her wrong is happening with Yuvan. Banni gets shocked and tells her she will teach a lesson to them.
Click to read