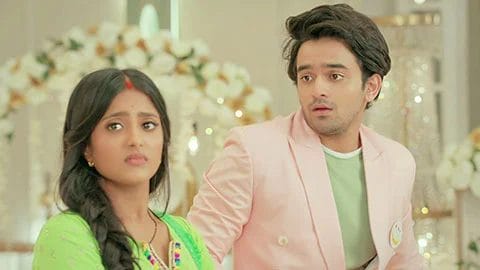 Shashi Sumeet's Banni Chow Home Delivery entertained the audience for good 9 months. The show earned the fan base. Pravisht Mishra and Ulka Gupta's chemistry in the show too gained audience attention. Actors effortlessly pulled the characters Yuvaan and Banni.
Banni Chow Home Delivery showed interesting twist and turns. In the last episode of the show, Kabir Singh Rathore gains consciousness. Banni helps him. Kabir proposes Banni for the marriage. He also promotes Banni Chow Home Delivery. Kabir and Banni's love story gets a closure.
Well fans of the show were upset with the ending of the show. They expected Yuvaan and Banni to be the end game but makers twisted the Yuvaani lovestory by bringing the character of Kabir.
A social media user and Banni Chow Home Delivery fan wrote:
Bhai itni tragic ending kya kahun yaar is show se mostly #pravika and #yuvanni se aisa lagwaab ho gaya hai ki bas kucch accha nahi lag raha, aisa lag raha hai ki koi dil ka ek tukda kaat kar legaya ho..it's so hurting #BanniChowHomeDelivery #PravishtMishra #UlkaGupta
ghatiya pH ne split ko rakh diya or humare yuvan ko earth se vanish kar diya Chaye kabir yuvan ka hi ek rup ho Lekin mere liye y story #Yuvanni ki hi h #BanniChowHomeDelivery Ek soul, heart, body hone ke bad bhi kabir yuvan ki jgh nhi le sakta Yuvan is Ssp
Check out more under hastags #BanniChowHomeDelivery
Banni Chow Home Delivery hit its last episode on 3rd January 2023. Fans of the show missing Banni and Yuvvan/Kabir aka Pravisht and Ulka. The actors made irreplaceable place in audience heart with their breathtaking on and off-screen chemistry.
Pravisht and Ulka also known as Pravika entertained the audience by sharing the trending reels on their social media. PraviKa is a treat to watch together.
Fans now want their favorite Jodi to come together back again in a music video or Khataron Ke Khiladi. See best of Pravika moment
https://www.instagram.com/p/CmLc-WLgvWL/
https://www.instagram.com/p/Cm9SpJHDuBn/
https://www.instagram.com/p/Cjw3X7qLgXx/
Last, Pravisht and Ulka amazed the audience with their dance performance. They set the stage on fire.
Share with us if you all are missing Pravisht and Ulka.
Stay tuned for TV serial news and updates