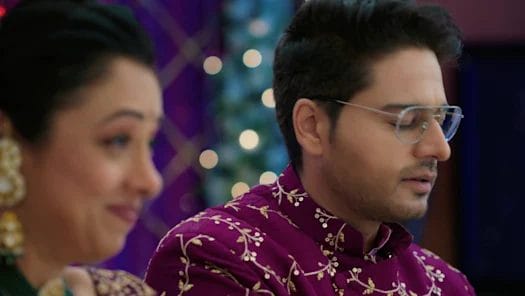 Anupama Upcoming Story, Spoilers, Latest Gossip , Future Story, Latest News and Upcoming Twist on TellyExpress.com
Show Anupama is gearing up for high voltage drama with Anu entering Kapadia mansion.
In today's episode, Adhik stops Barkha from taking anxiety pills. He says the pills are not good for her health. Barkha says that he would have thought all these before giving her anxiety. Adhik tells to Barkha about his meeting with Pakhi. He adds Anupama and Vanraj joined them too. Barkha worry and asks Adhik to tell what he is upto. Adhik tell to Barkha that he wants to marry Pakhi so that she can control Anupama in the furture. Sara over hears Barkha and Adhik. She decides to reveal the truth to Anupama and Anuj. Adhik says to Sara that she can tell the truth but he wants to marry Pakhi because he love her. Sara gets adamant. Barkha tries to stop Sara.
Anupama takes off evil eye from Anuj. Anuj and Anupama get elated thinking about welcoming Anu. They decide to give a grand welcome to Anu. Anuj worry if Anu will be happy with them. He decides to bring her soon. Anupama get happy for becoming mother again. Kinjal worry and calls Anupama. Leela and Kavya prepare sweet for Kinjal.
Anupama meet Kinjal. She asks if she needs a doctor. Kinjal says no she just need her. She shares her worry with Anupama and says she won't be able to handle the baby. Kinjal add what if she drop the baby or sleep over her. Anupama calm Kinjal.
Later Anupama urges Anuj to reveal to Barkha and Ankush about Anu. Anuj stops Anupama.
In the upcoming episode, Anuj will bring Anu home. Kapadia's will stand shocked. How Ankush and Barkha will react on Anu's presence in the house will be interesting to watch. For more entertainment keep watching the show mon-sat, 10 PM Star Plus.