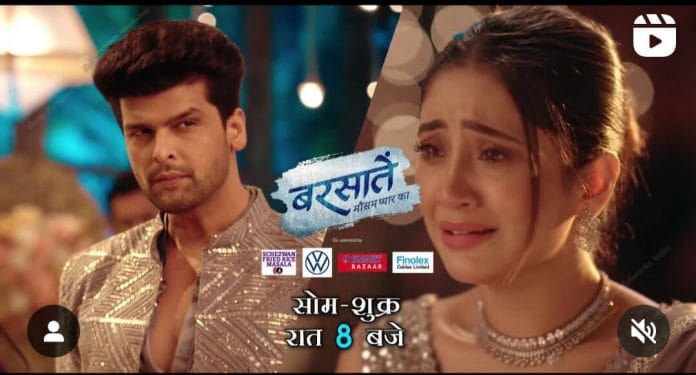 Barsatein-Mausam Pyaar Ka 15th November 2023 Written Update on TellyExpress.com
The episode starts with Bina asking Aaradhana if she is really leaving. She gets emotional and asks Aaradhana if she doesn't think that she is leaving her another mom here. Aaradhana gets emotional about getting three mom after arriving here. Just then, Jai arrives and tries to convince Aaradhana not to leave. Aaradhana refuses stating that the Kannahs have to stand up on their own now. Jai suggests going with Aaradhana and work together. But Aaradhana refuses. Jai decides to accompany her till the bus stand. Aaradhana shares an emotional hug with Bina before leaving with Jai.
Jai says to Aaradhana that he is going to miss a friend. Aaradhana says that Jai proved her that all men aren't toxic. Jai asks Aaradhana to forgive Reyansh. Aaradhana is surprised that Jai still defends Reyansh. Jai says that he understands what's losing love. He says that some can bear this pain and some can't which Aaradhana can't understand.
Reyansh goes to Bina's house and searches for her in the whole house. He asks Bina where Aaradhana is. Bina says that Aaradhana went far from Reyansh. Aaradhana and Jai wave bye and share a friendly hug. Reyansh sees this and gets angry. He takes an iron rod in his hand. He remembers Aaradhana's words. He breaks the glasses of Jai's car. A man informs Jai about an insan man breaking his car. Aaradhana wants to go with Jai to check who that mad person is. But Jai asks Aaradhana to go while he will handle it. Aaradhana gets on the bus.
Jai stops Reyansh and asks him to beat him instead of his car. Reyansh says that Jai wants to become good in front of Aaradhana, so he is doing this. Reyansh and Jai fight. Aaradhana arrives there and stops them. A FB shows. Aaradhana gets Bina's call and learns that Reyansh find out that she's leaving. Aaradhana pushes Reyansh away and rebukes him about breaking the car of Jai who is his friend. Reyansh accuses Jai of separating Aaradhana from him. He says that Jai is playing a game and is about to say that Jai loves Aaradhana. But Jai stops Reyansh.
Reyansh asks Jai if why he is scared, if it wasn't in his plan. Reyansh says to Aaradhana that Jai loves her which shocks Aaradhana. Reyansh says that Jai acted good in front of Aaradhana and tried to snatch her from him since Jai loves her. Aaradhana refuses to believe Reyansh and states that they are just friends. Reyansh says again that Jai loves Aaradhana despite knowing that he came for Aaradhana whom he loves. He accuses Jai of double crossing him.
Reyansh asks Aaradhana to question Jai if he loves her or not. Aaradhana asks Jai if it's the truth. Reyansh asks Jai to tell Aaradhana the truth. Reyansh says that Kimaya's wedding got fixed with him and Kimaya received Vivek's gift yet he didn't clear the misunderstanding. Reyansh asks Jai to tell Aaradhana the truth. Jai says to Aaradhana that his intentions aren't wrong and asks her to let him explain. Aaradhana asks Jai to stop it.
Reyansh says to Aaradhana that Jai waited that Aaradhana gets away from him so that he can get her. Aaradhana congratulates Reyansh for snatching a friend from her. She says to Jai that he is also like Reyansh and angrily leaves. Reyansh asks Jai if his plan has flopped. Jai walks away. Jai goes after Aaradhana and pleads with her to listen to him once. Aaradhana asks Jai since when he is loving her. Jai says that since the beginning. He says that this is Kriti's planning and she also manipulated Reyansh who refuses to listen to him.
Jai tells Aaradhana how Kriti created a misunderstanding between them and blackmailed him when he learned the truth. Jai tries to convince Aaradhana to accept Reyansh who is broken. Aaradhana asks what about Jai. Jai says that his love is one side, so there is no any demands or conditions. He blames himself for what happened and not Reyansh. Aaradhana blames Reyansh for playing with Kimaya's feeling for his revenge and refuses to forgive him. Jai says that he knows that Aaradhana can't love someone else than Reyansh. Aaradhana also admits the same, but she refuses to forget that Reyansh is responsible for Kimaya's death.
Aaradhana breaks her friendship with Jai as she doesn't want to increase his pain more. She says that she can't love him back as she loves Reyansh which is her punishment and she can never accept Reyansh which is his punishment.
The episode ends.
Precap: Viren shouts at Aaradhana and asks why she didn't tell them earlier that Reyansh doesn't love Kimay when she knows the truth. Reyansh reveals to Viren that Malini is Aaradhana's mom. Reyansh says to Aaradhana that he will always stand by her side.
Click to read