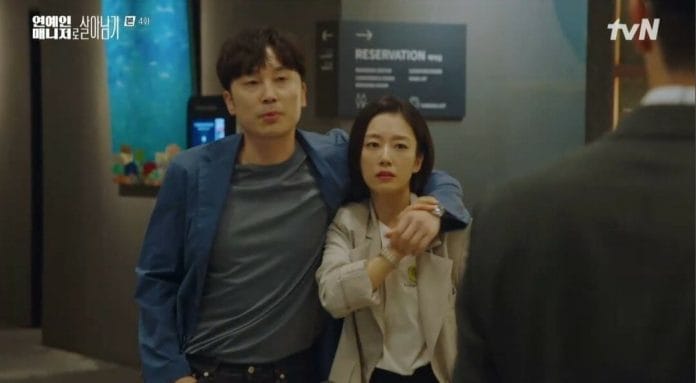 The episode starts with Ma finding Naany for actress Soo Hyun's child. Ma suggests her to take upa the role of a girl next door in her comeback. Soo Hyun being an Avengers Star, wants to be casted in an action role. Ma thinks of the chances. Mr. Kim is finding for a good photo in Hee Sun's collectiona nd also appreciates her so that she doesn't get disheartened. Ma asks him to not give false hope for her but Mr. Kim believes that she could shine. Jae In is checking Lee Sang Uk's social media and finds him interested in rock climbing. She goes to his cabin and pretends like she's in pain due to rock climbing and again tries seducing him.
Sang Uk bursts the bubble saying that it's another one who's interested in rock climbing and shares the same name as his. She leaves embarrassed while he smiles. He then takes Jae In's file. Ma discusses with the director for an upcoming action film. He's interested to cast new actor Choi Hui Jin for the role but Ma persuades him to cast Soo Hyun. She gives the script to So Hyun lying that the Director had her in mind from start. Soo Hyun believes in his lies and gets happy. Mr. Kim tries hard to find someone to audition Hee Sun for a role but none shows interest. Hee Sun gets disheartened but he cheers her up.
Ma meets with Tae Ja's wife who reveals that Tae Ja was cheating on her an she only realized it after she called her. His mistress also demanded share from the company. She asks them to decide soon as another company is interested in buying Method Entertainment. Ma says that the company is under trouble due to Tax Investigation but she says that paying few fines is not a big deal for the company. He asks which company is interested to buy Method and she reveals that it a Chinese company named SM Entertainment. She says about their plan about employee detaining too.
Ma shares it with others who were outraged. Jae In recalls confronting Ma as the reason behind Tax Investigation as she checked that no other outside company where involved. The chances are only him to be the one. Ma gets call from Star Media asking about his decision. Ma discusses with his wife about Eun Gyul and gets worried with her suspicion that he has feelings for Hyun Joo. She also says that word is spread that the company is under crisis. Sang Uk visited Jae In to enquire about her expense details. Jae In understands that he's interested in her despite him denying it. Just then, her ex boyfriend barges in and createsa scene about hteir flings. Sang Uk leaves upset.
Soo Hyun brings the baby to the company as there was no one to take care of her. She leaves the baby with Ma and have a meeting with the director. She had her eyes focused on the baby who gets changed from one hand to another as they couldn't handle the baby. Soo Hyun gets worried and herself leaves to check on the baby making excuse. The baby stops crying as soon as seeing her mother's face while she too falls asleep. Ma rushes to leave when Eun Soo catches his call letter from Star Media clients and he accepted it too. She falls down crying and shows it to Jin Hyuk too who also shouts crying. Jae in sends Hyun Joo to Eun Gyul's palce to collect his childhood pictures for project. Soo Hyun practices hard for her role but couldn't join the meeting as she had to take care of the baby. Eun Gyul after showing the pictures confronted Hyun Joo is she's hiding something. His mother comes there at the same time and forces Hyun Joo to join for dinner too.
Ma confronted Soo Hyun for missing the important meeting. Soo Hyun says about her kid about to get hurt due to Naany's carelessness but Ma is frustrated with her excuses. They have a tiff where she breaks down with her overloaded pressure to handle things. Ma suggests he to take a long break until she could manage things for her comeback. Soo Hyun creates in trouble with few bikes when she goes out for a walk with her kid. Ma gets surprised seeing Hyun Joo at his place and she explains why she was here. They have an awkward dinner where Hyun Joo only speaks high of Ma. Ma sees her outside and warns her to stay away from Eun Gyul. She asks her to say it to his son on atleast reveal the truth of their relationship. Next day, Ma comes to office where everyone looks weird at him. Jae In, Kim and Shim confronted him for joining Star Media with their clients. Jae in reveals that it was him who whistle blowed them to the National Tax service. Shim hits him and he says that he did that only to save the company. He also says about Tae Ja using company's money for booking suite in hotel room.
Jae In and Kim goes to the place to convince the manager but Sang Uk comes there. They both pretend to be a couple who spent one night stand at the hotel. He leaves to investigate the manager. Ma ignores Soo Hyun's call over the pressure. Method company people see the video of Soo Hyun fighting with the bikers and it has already went viral. Soo Hyun also got arrested. When the slow motion the video they find that the bikers were con artists and were not actually hit. Soo Hyun loses her opportunity over the case. Ma saves her while Hyun Joo uploads the slow motion video in social media. Soo Hyun gets immense fame and signed up an ad shoot. However, she gave the money donated to women's organization much to Ma's displeasure. Mr. Kim is upset that Hee Sun got offered the role of a maid for the lead where her face would be barely visible. She still rejoices and gets extremely happy over the small role. Jae In clears the misunderstanding with Sang Uk and they both Kiss and makeup. Jae In is about to keep his tie back in office when she comes across something shocking. Next day, Shim says that the Chinese Entertainment backe doff upon learning that Ma is moving to Star Media. They wonder if it's Ma's plan to save the company. They express their gratefulness and celebrates. The celebration gets spoiled when Jae In shows the actual money embezzled by Tae Ja which she got from Sang Uk's office.