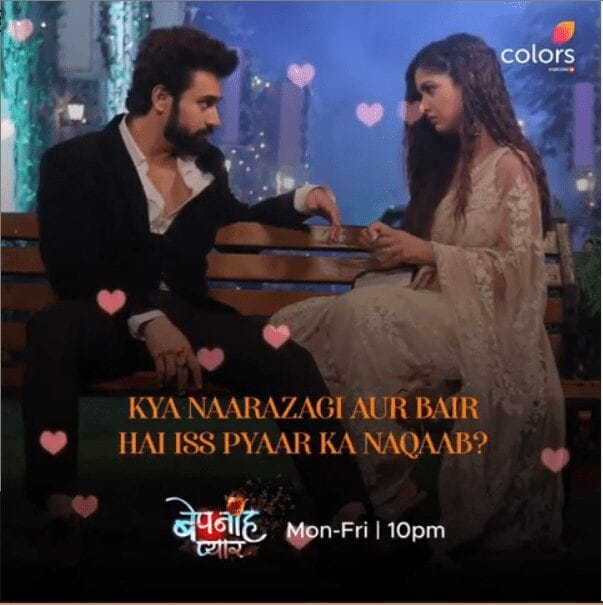 Today's Written Update will be updated soon.
Episode begins with Pragati notices that Sahad goes away from the house with the car and she decides to follow him as well. In between the road at a turn she lost the track of Sahas. Sahas comes to meet his brother and mother and says that I am fed up of your flop plans which never gets succeed. Pragati noticed that Sahas is talking to Harshit and his mother. Sahas is telling them that you have to fulfill all the commitments you made to me because if you don't do so then I will complete the promise I made to you people.
Sahas shows them the video of where his mother is cutting the railing to kill Raghbir but unfortunately but unfortunately bani becomes the target but unfortunately Bani becomes the target. Sahas tells them that I will tell Ranbir and everybody about the reality of you. She tried to delete the video which is a sure shot proof against her. sahaj laughs at her and says do you really think that I didn't keep any backup of this important evidence.
Pragati finally realises that Sahas is making a fool out of her and he is the one who betrayed her the most. Pragati listens to their talk and she realised that Sahas has every proof which she is looking for all these days. She comes back home and decides to do things in a calm and composed way. Pragati finally decoded Sahas and the team is trying to harm Raghbir so that they can create differences between Raghbir and Pragati.
Pragati decides to teach a lesson for trying to cause harm to her husband. Suddenly Pragati is shown kept inside a cupboard and she is feeling suffocated inside the box. The situation goes back in time lapse of 8 hours and the press conference was going on in the office of Raghbir and he is giving interviews to them and his father is getting proud to see the conference on TV. Suddenly, Ranbir feels a strange sensation inside him and his mood is completely changed and he simply starts to berate the press officials while Pragati tries to control him. Pragati brought Raghbir to the hospital for a check up and along with it she asked the doctor to take some blood samples of Raghbir and get it tested. after coming back to sense is not understanding why he starts to behave differently at times.
Sahas is making faces as it is him who is behind all these. Raghbir says to his father he will do the party as it is about their family business anniversary. Pragati excused herself from the cabin of raghubir and she says that I will get the discharge papers ready. She goes to meet the doctor and asked about the blood reports. The doctor answered Pragati that he already informed the pathologist to handovered the blood reports only to her tomorrow in their house.
Click on the link below to read the full 12th February 2020 written update :