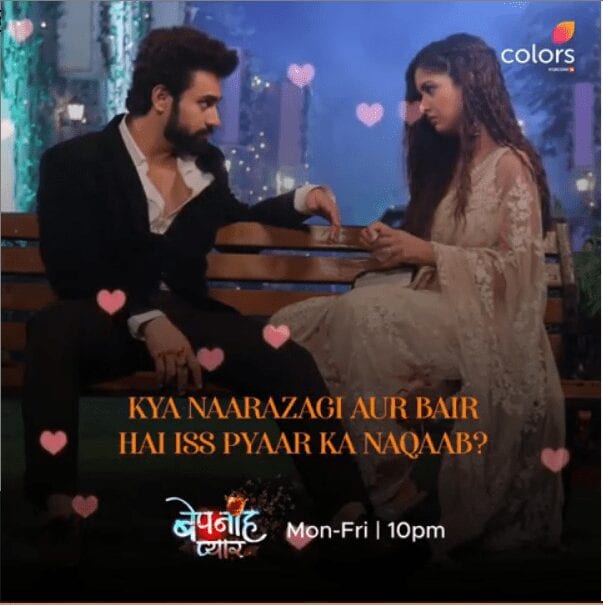 The episode starts with Ragbir apologizing Pragati for his behaviour. He says that he couldn't keep up his promise to take care of her who gave new life for her. He says that he himself is not aware why he did all that and how. Kunti and Sahas gets angry while Ragbir confesses his love for her in front of everyone. They both hug each other.
Pragati too confesses her love and whole family gets happy. Ragbir once again gets attack while Pragati takes him in. Sahas looks angrily at Kunti and taunts her for her failed plan. Pragati asks Aditi permission to take Ragbir out for a change of environment.
Aditi and Devraj agree but Kunti tries opposing it. They both convince Kunti and Kunti makes excuse to stay there to keep an eye on Pragati. Kunti is sure that Pragati is upto something.
Pragati and Ragbir romances in their room. They both feed each other and enjoy their time together. Finally they both are watching tv and Ragbir sleeps on Pragati's shoulders. Ragbir is still guilty for his behaviour with Pragati and says that she's still so nice with him. He says no one loved him so much ever in his life.
Pragati thinks that it's time to reveal the truth. She asks if he trusts her and he says yes. Pragati shows him his blood test report shocking Ragbir. She says about the drugs mixed in his blood that could damage his brain cell.
Pragati says that it's Badi Maa who gave him his drugs. Ragbir denies believing it abd gets angry at Pragati for accusing Kunti. He shouts at her for blaming Kunti and burns the reports. Ragbir warns her to not say a word against Badi Maa else he'll forget who she is and leaves.
Pragati comes to Ragbir's room and finds him sleeping. She says that in his blind trust on Badi Maa he's not seeing the truth. She decides to keep an eye on his food hereafter. She sees someone going outside Ragbir's room and starts searching for the person. In the meantime Badi Maa comes to Ragbir's room with tablets and mixes it in his water and leaves.
Pragati couldn't find anyone while Harshit is shown hiding. Sahas comes there and asks about Ragbir. Kunti mocks Pragati for being unaware of their plan. Pragati asks him to leave without disturbing Ragbir. Sahas too drops tablets in water when Pragati is busy and leaves. Ragbir starts coughing and Pragati feeds him the drugged water. Kunti and Harshit are happy to spoil Pragati's romantic night.
Sahas comes there to hurt them but Kunti asks him to explain what happened. Sahas explains and says him that Pragati has found out that he's with them. Sahas recalls Pragati's latest behaviour and gets furious.
Precap : Ragbir is sinking while Sahas asks Pragati to marry him in exchange of Ragbir's life.