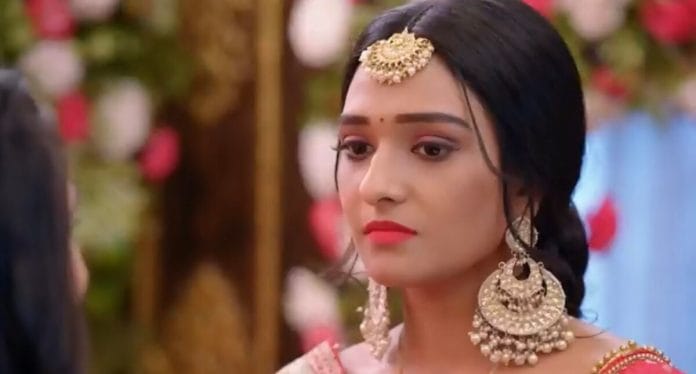 Bhagya Lakshmi Spoilers, Upcoming Story, Latest Gossip , Future Story, Latest News and Upcoming Twist on tellyexpress.com
Zee TV popular show Bhagya Lakshmi is attracting viewers with an interesting storyline, The judge stops the engagement of Rishi and Malishka has glued the audience to the screens.
As reported earlier, Neelam doesn't let Lakshmi reveal Malishka's behavior to Virendra. Engagement gets started. Rishi is about to put the ring on Malishka's finger but Shalu comes there with the judge. The judge stops the engagement and tries to call the police to get Rishi arrested. Lakshmi intervenes and says it's her fault. The judge scolds her. She also lectures everyone believing what Lakshmi said.
Judge asks everyone to leave. The judge advises Lakshmi to understand Rishi's love, Rishi is confused, so show him a good way and don't force him. Lakshmi says Rishi told me that he is waiting to marry Malishka post divorce. Judge asks her to not trust his words and I saw Rishi only loves you and people around you are separating you both so that Rishi can go to Malishka.
The Oberoi blame Lakshmi once again for their humiliation. Shalu tries to reason with them saying Lakshmi saved their respect. Karishma stops her and asks her to leave the house.
In the upcoming episode, viewers going to witness Lakshmi will tell Malishka that she will not let her come near Rishi. Malishka will warn her. Shalu will say if this thing happens again, then I will do the same thing again. Lakshmi will say if something can separate us then it is just death.
Shall will ask Malishka not to think to punish Lakshmi for her doings, else she will become so bad which will make her shiver from head to toe. Lakshmi will hear her. Shalu is about to go from the house when Lakshmi will hugs her. Lakshmi will say let's show Malishka what we can do.
Can Lakshmi teach a lesson to Malishka? What's Lakshmi's plan?
All these questions will be answered in the upcoming episodes.