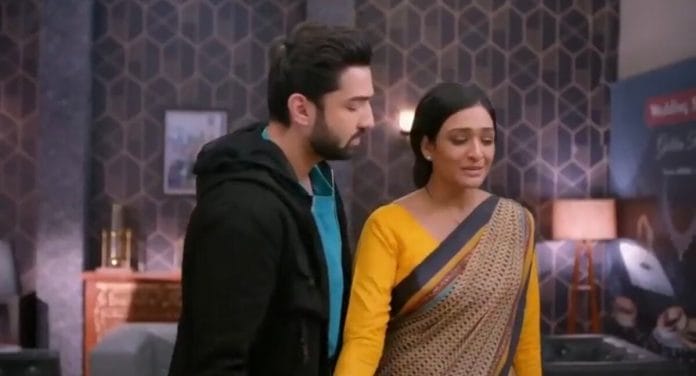 Bhagyalakshmi Spoilers, Upcoming Story, Latest Gossip , Future Story, Latest News and Upcoming Twist on tellyexpress.com
Zee TV new show Bhagya Lakshmi is attracting viewers with an interesting storyline and the current separation track of Rishi and Lakshmi has glued the audience to screens.
As reported earlier it's shown, Malishka asked Kalyani to show jewellery by making wear it on a mannequin as it's not good Lakshmi. Lakshmi left in tears and she controlled herself for her sisters. Malishka tried to hurt her but Lakshmi behaved like an employee. Malishka asked how can she behave like she is unaware of her. Lakshmi left and collides with Rishi. Rishi apologied to her. Lakshmi said he can't set everything with his sorry and left. Malishka said you always apologize to Lakshmi but she loves to insult you and your family and you know Lakshmi tried to make me feel the culprit Rishi asked what Lakshmi said to her. Malishka asked him to ignore then he left to answer the call. Rishi told Ayush that he did wrong by insulting Lakshmi and I wanted to talk with her but she is not even interested to see me. Ayush advised him to talk to her. Malishka asked Lakshmi to show engagement rings to her.
In the upcoming episode, viewers going to witness that Malishka will choose one ring and tell that ring is best and made for her then Lakshmi says it is beautiful but sometimes the beautiful things are not made for everyone, they can be bought but might not be suitable for them. Later Rishi will try to wipe Lakshmi's tears and says I used to love Malishka and I love you too. He hugs her then Lakshmi pushes him and warns him not to touch her then she says I feel disgusted on myself for loving you someday.
Will Lakshmi save Rishi from his danger from iron? Will Rishi realize his mistake?
All these questions will be answered in the upcoming episodes.
To know what will happen next in your favorite show, keep checking this space for new and exclusive updates.