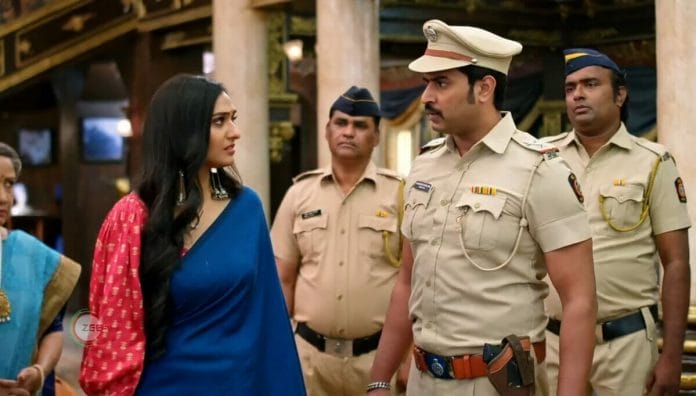 Bhagya Lakshmi Spoilers, Upcoming Story, Latest Gossip , Future Story, Latest News and Upcoming Twist on tellyexpress.com

Zee TV popular show Bhagya Lakshmi is attracting viewers with an interesting storyline where Kiran accuses Lakshmi of kidnapping Malishka has glued the audience to the screens.

As reported earlier Lakshmi feels guilty and conveys to Shalu that she did some mistake. Shalu consoles Lakshmi and requests her to tell her what happened. Kiran comes to Oberoi mansion and shouts Lakshmi's name. Lakshmi drops the phone in shock and goes downstairs.
Kiran accuses Lakshmi of kidnapping Malishka. Lakshmi says she didn't. Neelam asks Lakshmi where she went and inquires about her whereabouts. Lakshmi says she didn't kidnap Malishka and requests Virendra and Neelam to trust her. Neelam asks her to tell them where she went so they will decide. Lakshmi stays silent.
Karishma asks Lakshmi to talk. Virendra says he trusts Lakshmi and asks Lakshmi to prove her innocence by telling them where she went and tells her that he knows that she can never do wrong. Lakshmi says she went for work. Kiran asks Lakshmi to say where is Malishka. Lakshmi says she doesn't know where is she?
Kiran raises her hand to slap Lakshmi. Dadi stops her and reminds her that Lakshmi is their daughter in law. Abhay says we respect you that's why we came here first otherwise we may go to the police station to complain against her. Kiran asks Lakshmi to tell them where is Malishka.
Lakshmi in tears says she didn't kidnap anyone and leaves. Lakshmi recalls how she went to help Ayush who hit someone in the night and he took a promise from her to not inform anyone about the incident and she decides to not break her promise to Ayush.

In the upcoming episode, viewers are going to witness Dadi will tell Kiran that nothing wrong will happen with Malishka and I will not let anything wrong happen with Lakshmi. Kiran says I am sorry Neelam but we have to call Police.
Shalu says to Lakshmi what if Police come here. Dadi says to Kiran if Lakshmi is proven innocent then she will ask everyone for answers who degraded their family's reputation. Inspector arrests Lakshmi.

Who kidnapped Malishka? Will Lakshmi be able to prove her innocence?
All these questions will be answered in the upcoming episodes.
To know what will happen next in your favorite show, keep checking this space for new and exclusive updates.