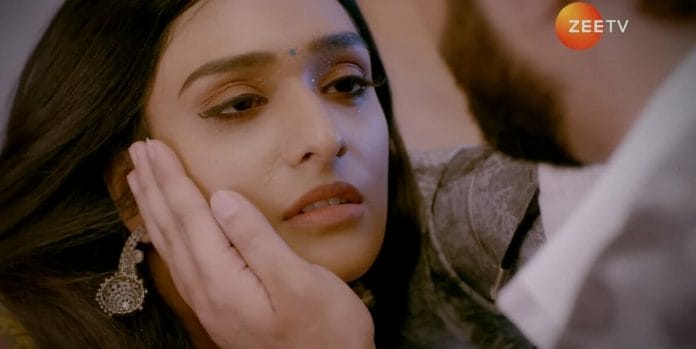 Bhagya Lakshmi Spoilers, Upcoming Story, Latest Gossip , Future Story, Latest News and Upcoming Twist on tellyexpress.com
Zee TV popular show Bhagya Lakshmi is attracting viewers with an interesting storyline Neelam and Karishma conspire against Lakshmi have glued the audience to the screens.

As reported earlier Karishma scolds Ahana. Ahana is adamant to wear the saree brought by Lakshmi. Lakshmi says you want to learn from me so learn that you can't behave with elders in this way and you have your way and become like you not like others.
Ahana says she wants to learn simplicity from her. Karishma asks her to cut the crap and follow Malishka if you want as she has class and personality.
Ayush comes there and says inner beauty is important not outer beauty. Karishma leaves in anger and complains to Neelam. They spoil a portion of the prasad prepared by Lakshmi by adding garlic.

Malishka gets happy to see Rishi brought a necklace and thinks finally he is seeing my love. He tries the necklace on her. Lakshmi comes there and sees them. He takes back the necklace and tells Lakshmi that this necklace is for her and asks her to tell him how is it. Malishka gets shocked and leaves. Lakshmi tells him she likes it.

In the upcoming episode, viewers going to witness Balwinder will connect current wires to the Kalash pot. Malishka will tell Balwinder that once she gets Rishi, he can't think how much money she will give him. Dadi will ask Rishi and Lakshmi to cut the cake.
Malishka looks on. Durga Devi will come there with her team. Virendra will say you came at the right time. Durga Devi will say Police shall come at the right time. Lakshmi will touches the Kalash pot and gets electrocuted, shouts, and faints. Rishi and everyone will get worried.

Will Lakshmi and Rishi realize their love for each other? Will Lakshmi be able to get survived?
All these questions will be answered in the upcoming episodes.
To know what will happen next in your favorite show, keep checking this space for new and exclusive updates.