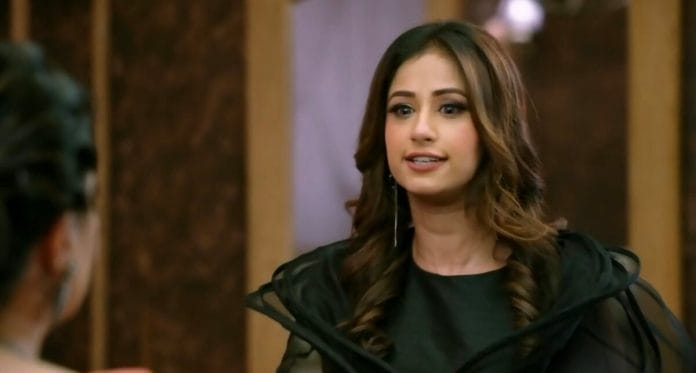 Bhagyalakshmi Spoilers, Upcoming Story, Latest Gossip , Future Story, Latest News and Upcoming Twist on tellyexpress.com
Zee TV popular show Bhagya Lakshmi is attracting viewers with an interesting storyline, Malishka plans to defame Lakshmi have glued the audience to the screens.
As reported earlier Neelam scolds Lakshmi. Rishi stops Neelam and asks them to give one chance to Lakshmi for an explanation. Karishma asks why he is taking her side? She may ruin our reputation too. Rishi says, I never thought that Lakshmi can think something like this, but whatever is written in a newspaper is true. Ayush calls Rishi for the meeting. He leaves with Ayush. Shalu reveals to be Malishka that she gave information to reporters. Malishka shouts at her and tries to slap her. Lakshmi stops Malishka and warns her to stay away from her family. Malishka meets Neelam and tells her that Lakshmi is behind everything and she used Shalu to implement her plan. She asks Neelam's permission to defame Lakshmi. Neelam gives her permission and asks her to break the proudness of Lakshmi. Abhay calls Virendra and asks him to check the paper. Virendra checks the paper and calls the Reporter to know who gave him information about their family. The reporter says Lakshmi and his phone fall down. Rishi and Ayush come there and hears it. Rishi feels bad for supporting Lakshmi who tried to defame them. Women welfare people come to Oberoi mansion and questions them why they are not tried to unite Lakshmi and Rishi. Malishka asks who are they to question them. She tells them she will marry Rishi and throws out Lakshmi from their life.
In the upcoming episode, viewers going to witness Welfare women will darken the face of Malishka. Neelam will tell Lakshmi that she is a curse to their family. Lakshmi will share with Shalu that she is sensing the danger.
Can Lakshmi prove her innocence? Can Rishi understand Lakshmi's love for him?
All these questions will be answered in the upcoming episodes.
To know what will happen next in your favorite show, keep checking this space for new and exclusive updates.