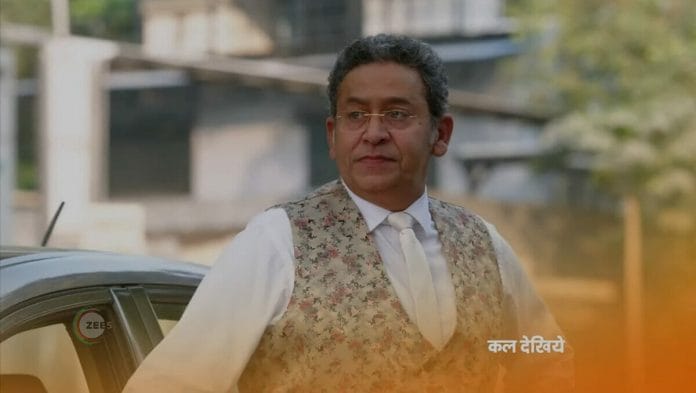 Bhagya Lakshmi Spoilers, Upcoming Story, Latest Gossip , Future Story, Latest News and Upcoming Twist on tellyexpress.com
Zee TV popular show Bhagya Lakshmi is attracting viewers with an interesting storyline where Ayush feels guilty has glued the audience to the screens.
As reported earlier Bani thinks someone is framing Lakshmi. Shalu agrees with Bani and thinks of who is doing it. Malishka takes off the mask and laughs thinking Lakshmi will be jail as she kidnapped herself and puts the blame on Lakshmi.
Balwinder praises Malishka's acting. Shalu calls Ayush and says Lakshmi is in trouble because everyone is thinking Lakshmi kidnapped Malishka. Ayush comes and clarifies to the police that Lakshmi is with him as he called Lakshmi as he got into a car accident and he can check in the hospital as the other person is joined in the hospital.
The police says they will verify it. The police release Lakshmi from the handcuffs and gives time till tomorrow 10 am to prove that she is innocent. The police leaves from there.

In the upcoming episode, viewers are going to witness Ayush will tell Karishma that Lakshmi Bhabhi can't kidnap Malishka, and if she kidnaps her helplessly then I will support her. Karishma will ask him if he goes against her. He agrees.
Lakshmi tells Ayush and Shalu that someone placed her earring in Malishka's room intentionally. Virendra sees Kiran going secretly and follows her. Kiran meets Malishka and tells her that she can't defeat Lakshmi this way and if she gets caught then she will lose Rishi forever. Virendra hears them.

Will Lakshmi be able to prove her innocence? Will Rishi learn about Malishka's conspiracy?
All these questions will be answered in the upcoming episodes.
To know what will happen next in your favorite show, keep checking this space for new and exclusive updates.