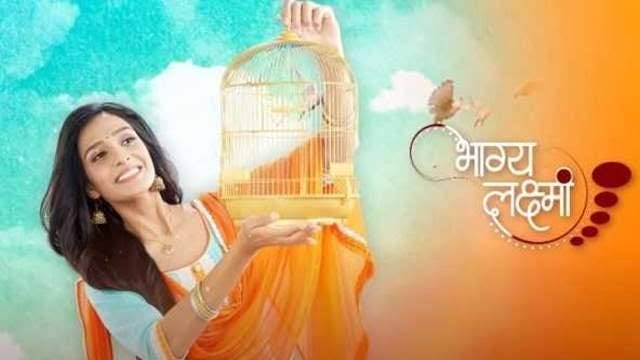 Bhagya Lakshmi Spoilers, Upcoming Story, Latest Gossip , Future Story, Latest News and Upcoming Twist on tellyexpress.com
Zee TV Popular show Bhagya Lakshmi is attracting viewers with an interesting storyline and Rishi's separation from Lakshmi has gluedthe audience to the screens.
This week Bhagya Lakshmi begins with Rishi and Malishka arrives at Darshan's jewellery store, Rishi goes to the first floor to see thekundan collection. Malishka feels she saw Lakshmi. Kalyani makes Malishka sit and she calls Lakshmi to bring the sets. Pandit Ji warns Neelam that it's tough to save Rishi without Lakshmi and heperforms the pooja for Rishi well being. Malishka gets angry seeingLakshmi in the store and she tries to mock her. Kalyani tells Lakshmi that they have to show the best designs of mangalsutra toher, as she is getting married to Rishi Oberoi. Malisha asks Kalyaniwhy they hired an inexperienced candidate. Lakshmi tells her shewill learn. Kalyani sends Lakshmi upstairs after scolding her for herbehavior with Malishka.
Rupali shows designs to Rishi and he chooses the design ofLakshmi's pattern. Rupali calls Lakshmi and he turns but he fails to see her and Rishi thinks why he is thinking about Lakshmi. Lakshmisees him but she avoids being seen by him. Malishka thinks to insultLakshmi for misbehaving with her. She asks Kalyani to try the jewellery on sales girl Lakshmi. Kalyani makes Lakshmi trynecklaces and Malishka says this is for my Haldi and asks Kalyanito show some good designs for her engagement and marriage.Lakshmi stands rooted. Malishka says I was lucky to get back myRishi else some person tries to steal him.
Neelam scolds Karishma pointing out her selfish nature and warns her to think for her family. Malishka asks Kalyani to send Rishi sothey can try mangalsutra and She tells that the necklaces she doesn'tlike on a second thought which she tried on Lakshmi and she asks her to show jewellery by making wear it on a mannequin as it's notgood Lakshmi. Lakshmi leaves in tears and she controls herself forher sisters. Malishka tries to hurt her but Lakshmi behaves like anemployee. Malishka asks how can she behave like she is unaware ofher. Lakshmi leaves and collides with Rishi.
Rishi apologizes to her. Lakshmi says he can't set everything withhis sorry and leaves. Malishka says you always apologize toLakshmi but she loves to insult you and your family and you knowLakshmi tried to make me feel the culprit Rishi asks what Lakshmisaid to her. Malishka asks him to ignore then he leaves to answer thecall. Rishi tells Ayush that he did wrong by insulting Lakshmi and Iwant to talk with her but she is not even interested to see me. Ayushadvises him to talk to her. Malishka asks Lakshmi to showengagement rings to her.
Rishi comes there. Malishka hugs Rishi and she asks Lakshmi toshow engagement rings. Malishka dislikes Lakshmi's choice and chooses one ring. Lakshmi says it is beautiful, all good things arenot made for everyone, you can buy it, but you can't be suitable forit as it's not your size. Malishka wears it forcefully which hurts herfinger. Kalyani takes her to apply ointment. Rishi requests Lakshmito give him chance so he can talk but she denies it then he acts likehe got hurt with the ring and he makes Kalyani send Lakshmi withhim to the client's room to remove the ring. Neha returns from marriage. Rano and Neha treats Shalu and Bani badly and they plans to treat them like servants. Rishi requests Lakshmi to give him 5minutes but she tells him that she doesn't trust him anymore anddenies listening to his words.
Malishka searched for Rishi and she calls him. she sees Kalyani and asks her about Lakshmi. Kalyani tells her Lakshmi took Rishi with her to remove the ring which struck on his finger. Malishka asks her about the client's room and goes in that way. Lakshmi congratulates him in tears. Rishi hugs her then Lakshmi pushes him and warns him not to touch her and she says I feel disgusted on myself for loving you. Rishi asks her to not make him a villain and what mistake I did if I'm marrying Malishka? As you're moved on with your new life. Lakshmi says my new life is started with you and I'm working here as we became a burden on my Chachi and I'm working for my sister's hiding the pain and if you felt I moved on then Move on in your life too.
Rishi tells her she is important to him and asks her to not misunderstand her. Lakshmi asks how can he marry Malishka if she matters to him and asks him to not treat her like a friend as she doesn't want to become his friend from wife and you moved on as I have to move on for my sister's and I don't have any reason to live except my sister's. Karishma recalls Neelam's words and she calls Malishka. Malishka tells Rishi proposed me for marriage and we came here for shopping where Lakshmi is sales girl and Rishi has not just care and respect for Lakshmi, but something else too.
Karishma asks her to do something so that Lakshmi's image gets ruined and she doesn't show her face to anyone, not even to Rishi and anyone in the society. Malishka asks what she has to do. Karishma asks her to get her arrested for the theft. Malishka agrees. Ayush waits for Rishi's call and he thinks Rishi doesn't know what he wants and wish you can see his heart Lakshmi bhabi then you can see you're in his heart. Lakshmi removes the ring from Rishi's finger painlessly.
In the upcoming episodes, viewers going to witness that Malishka will keep the necklace in Lakshmi's bag then She shows jewellery box to Rishi which she likes then Rishi says necklace is not there. Malishka will tell some staff member has stolen my necklace. Kalyani will assure her that she will get all the staff members checked. Malishka will look at Lakshmi's purse. Kalyani finds a necklace in Lakshmi's purse then Malishka asks Kalyani to call the Police which shocks Lakshmi.
Stay tuned to this space for more updates about Bhagya Lakshmi.