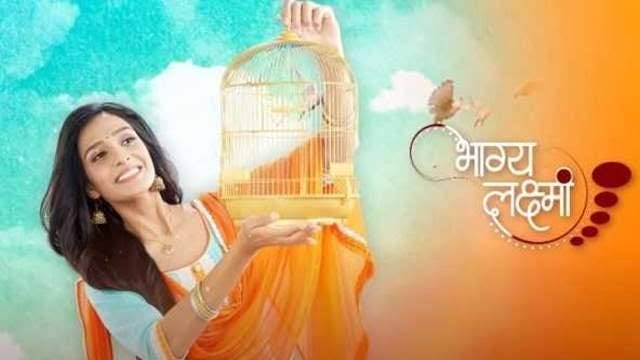 Bhagya Lakshmi Spoilers, Upcoming Story, Latest Gossip , Future Story, Latest News and Upcoming Twist on tellyexpress.com

Zee TV Popular show Bhagya Lakshmi is attracting viewers with an interesting storyline and Lakshmi gets shot while saving Rishi has glued the audience to the screens.

This week Bhagya Lakshmi begins with One terrorist is about to hit a pregnant lady with his foot. Lakshmi holds his foot and pushes him, saying until I am here, whether it is my Mummy Ji or any other Maa, I will not let anything wrong happen with anyone.
Reporter Uday records everything on his mobile. Lakshmi talks against Monish. Monish takes her to gunpoint and warns everyone that he will kill Lakshmi if anyone tries to do anything against them. Rishi stops Monish from hurting Lakshmi. Monish says he will kill their love. He points a gun at them.
Malishka takes Balwinder's shoe and hits Monish with it assuming Monish will kill Lakshmi but because of the leather smell, Monish coughs heavily. His members are busy making him better at that time Rishi signs everyone to escape.
Everyone leaves in different directions. Monish catches Rishi and his family. Monish slaps Rishi and says in mike if anyone tries to elope then can't go alive. He asks Lakshmi to come back else he will shoot Rishi.

Lakshmi says she will go inside but Ayush and Shalu try to stop her saying it can be a trap too. Malishka tells Abhay that she will save Rishi by taking Lakshmi inside. Balwinder tells her it's a waste idea as we know Lakshmi loves him and will save him so let's think about how to escape.
Abhay warns Balwinder to not misbehave with his daughter. Balwinder demands Abhay's apology and threatens to expose them if it didn't happen. One of the terrorists informs Monish that there is no way to go out of court. Monish asks Rishi to call Lakshmi as it's a test for your love. Rishi breaks the mike.

The reporters report that Laksmi has escaped from the terrorists but they don't know where she is. Monish threatens to kill Virendra. Neelam gets angry and shouts at Monish. Monish shoots Neelam. Lakshmi hearing the gunshot goes into the courthouse. Shalu also goes after Lakshmi.

A terrorist says to Monish that the cops and reporters are here. Monish thinks it is time to reveal their demands. Rishi punches Monish for shooting Neelam. He threatens to kill Monish. Monish punches him back and says it is not that easy to kill.

Lakshmi runs into Balwinder. Balwinder takes away Lakshmi from there. Shalu goes to find Lakshmi as she understands after talking to the stranger who saw Lakshmi is taken by someone who is not a terrorist. Rishi wakes Neelam up by sprinkling some water in her. It is later shown Monish shoots Neelam just to scare her and Neelam falls unconscious as she panics.

ACP talks to Monish and asks Monish to release the hostages. Monish says he will release the hostages but not alive. ACP asks what is his demands. Monish cuts the call. ACP thinks Monish is playing mind games.

Balwinder blackmails Lakshmi saying if she marries him then she will not go to jail as he has proof that Lakshmi is innocent. Lakshmi says to Balwinder that she will not listen to what he has to say as she knows Rishi will save her with or without proof.

Shalu beats Balwinder with a stick seeing him holding Lakshmi. Lakshmi asks Shalu why is she here. Shalu says she will be with her. Ayush tries to convince the police but they don't let him in. So Ayush pushes the cops and rushes into the court. Bani and Rano also run into the court along with him.

Malishka decides that she has to be great infront of Neelam. Abhay tries to convince her not to go to but no avail. Malishka helps untie Rishi, Neelam, and Virendra. When they try to run away Monish sees them. Monish holds Malishka by the neck. Rishi asks Monish to leave Malishka. Rishi starts beating the terrorists to escape from them.
Monish gets irritated with Rishi and shoots him. Lakshmi pushes Rishi away. Lakshmi gets a gunshot wound on her arm. Rishi and Lakshmi start showing their care for each other infront of everyone. Monish asks Rishi to stop this drama if he doesn't then he will Lakshmi.
Rishi threatens to kill Monish if he even thought about it. Ayush and Shalu come into the court and start beating the terrorists. Ayush tries to take the hostages to safety. He disguises himself as a terrorist. Rishi sees Sonia and Monish holds Rishi at gunpoint.

Rishi creates diversion and gets the family members out. Rishi takes care of Lakshmi. Malishka instigates Balwinder then he decides to break Lakshmi's nuptial chain. He hides his face and follows Lakshmi and comes in front of Rishi. Rishi fights with Balwinder thinking he is a terrorist.
Abhay and Neelam are shown to be making a deal with the terrorist. ACP calls Monish to ask him what are his demands. Monish says he wants his 3 gang leaders released. ACP doesn't agree to Monish's demands. Monish threatens ACP with the hostages and cuts the call. Malishka tells Virendra and others about the deal Neelam and Abhay made with the terrorists. Ayush and Shalu raise their concerns over it.

Balwinder escapes by pushing Lakshmi onto Rishi. Rishi helps Lakshmi stop the bleeding. ACP calls the commissioner and tells him about Monish's demands. Lakshmi saves a girl who is about to be raped by terrorists. Balram catches Lakshmi and the girl.
Balram takes them to Monish. Virendra asks Abhay if we can trust these terrorists. Neelam says what choice do we have. Ayush and Shalu raise their concerns about this deal.

Rishi notices that Lakshmi is not behind him. Rishi hears the announcement that Lakshmi is captured and they ask him to come. Rishi is in conflict with whether it is a trap or not. Malihska sees Abhay is not here and is worried about them.
Malishka runs into Rishi. They talk to each other. Rishi tries to go to the terrorists to save Lakshmi. Malihska stops him by hitting him with a wooden hammer from behind. Rishi falls unconscious. Malishka takes Rishi from there.

Malishka talks to herself to end the countdown and kill Lakshmi. Rishi wakes up. Rishi asks Malishka who hit him. Malishka says she doesn't know. Rishi goes to save Lakshmi hearing the countdown. Monish sees that Rishi didn't come and taunts Lakshmi seeing this.
Malishka runs into Balwinder. When Balwinder touches Malishka's hand. Malishka slaps Balwinder and tells him to act according to his status. Balwinder argues with Malishka and says Rishi is going to die today. When Monish is about to shoot Lakshmi. Rishi comes in between Lakshmi and the gun.
Rishi requests Monish not to do anything to Lakshmi. Monish says he will not kill that easily as he created a lot of trouble for him.

In the upcoming episodes, viewers going to witness Monish will order his team to hang Rishi in court premises. Then his team will hang Rishi with a rope around his neck and an ice slab under his feet. Malishka will blame Lakshmi for Rishi's condition.
Lakshmi will look tense. Dadi will pray for everyone's safety. That time terrorists wrap Rishi's photo and throw it outside to the police to know the condition of Oberoi's. Dadi will notice the photo in shock.
Monish will tell Lakshmi that he will kill Rishi if his demands don't get fulfilled. Dadi will ask the Media to prove their strength. Lakshmi will aim the gun at Monish.
Stay tuned to this space for more updates about Bhagya Lakshmi.