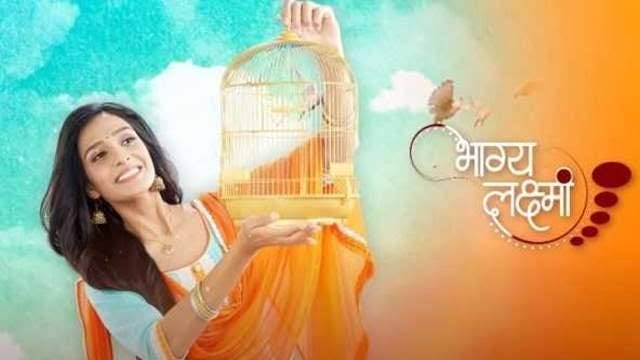 Bhagya Lakshmi Spoilers, Upcoming Story, Latest Gossip , Future Story, Latest News and Upcoming Twist on tellyexpress.com
Zee TV Popular show Bhagya Lakshmi is attracting viewers with an interesting storyline and Lakshmi bears insults to save Ahana's reputation has glued the audience to the screens.
This week Bhagya Lakshmi begins with Virendra and Ayush feel Lakshmi is trying to control them. Shiv comes and says he has two good news for everyone and says Dadi is completely fine and Lakshmi is pregnant. Rishi reads the report and asks Shiv to leave. Dadi gives nake to Ahana. Virendra asks Dadi if she even knows what is she talking about.
I know that Rishi and Lakshmi are going to become mom and Dad and do you know what you are talking about. Malishka leaves and locks herself in a room. Rishi goes after her to talk to Malishka and he knocks on the door. Kiran asks him to go away. Lakshmi goes to meet her sisters. Karishma tells Virendra that Neelam will be worried if she knows Lakshmi is pregnant.
He asks her to hide from her. Kiran tells Karishma that Rishi won't leave Lakshmi. Rishi tries to call Lakshmi but she doesn't pick it up and he throws his phone away in anger. Rishi starts drinking and says to Ayush that Malishka doesn't want to talk to him. Kiran lectures Malishka and asks her to learn from Lakshmi.
Lakshmi gets to know what happened through Shalu. She gives a warning to Neha. Neha says you're not my mom to give me gyaan and use this brain to set your married life. Rano asks Neha to stop talking about Lakshmi's married life as I don't want her married life to get broken as I don't want Malishka to take Lakshmi's place. They all discuss they are against Malishka. Karishma asks if Lakshmi stays here. Virendra says they can discuss it post engagement of Ahana and Rishi shall decide if he wants baby and Lakshmi, or his parents and family. He leaves. Kiran says it's tough to believe it's Virendra. Karishma says Virendra started hating Lakshmi and you will witness his new room layer Gautham arrives at the Oberoi mansion and he takes permission to take Ahana with him to show her their new apartment. Rishi gets drunk. Ayush makes Rishi sleep in the bed. Rishi in a drunkard state tells Ayush that he is happy. Lakshmi returns home. Malishka confronts her asking where he touched her. Lakshmi says Rishi touched her soul.
Malishka confronts Rishi at the office regarding whatever Lakshmi said. She break-up with Rishi without listening to his explanation. Malishka returns home. Kiran asks her to get ready telling they need to create a scene at the Oberoi mansion and to humiliate Lakshmi. Makishka agrees. Roshi returns home to confront Lskshmi. Lakshmi avoids Rishi and she goes to welcome Gautham and his family. They praise the theme of the party and thanks her for surprising them.
Malishka talks with Akash to make Rishi jealous. Gautham's mother asks for Lakshmi. Lakshmi asks Rishi to wear the dress she chooses for him. Rishi steps on that dress and tells her that he doesn't want to wear her choice of dress. He goes with kurta. Lakshmi searches for Kalava. Rishi asks her to set his Kurta. Lakshmi sets it with needle and thread. Rishi tells her how she is hurting them. Lakshmi goes out and collides with Malishka. She asks what's she doing here as function is happening downstairs. Malishka asks if she become pregnant to take over Rishi's property? Lakshmi tries to leave. Malishka stops her. Rishi comes out. Malishka says this incident showed that you're low level woman and your upbringing is wrong. Lakshmi asks her to stop saying the function is happening at her place. Ahana takes Lakshmi to set her Dupatta. Rishi asks Malishka to set his outta but she denies it.
Ayush asks Ahana to stay away from Lakshmi. Ahana asks her brother to not behave rudely with Lakshmi. Neelam comes there and takes Ahana with them. Ahana goes aside to talk with Gautham. They returns and gets engaged. Gautham proposes to Ahana for marriage. She happily agrees then he makes her wear the ring. Gautham and his family take Ahana with them. Rishi stops Malishka and reveals her that he is hot father of Lakshmi's baby and they don't have any physical relationship. Malishka comes to the hall and reveals to everyone about it. Neelam comes to know about Lakshmi's pregnancy. Everyone calls Lakshmi a characterless woman.
Rishi confronts Lakshmi for answers. Lakshmi says you lost the right to question me and I may answer you if you question me before revealing our relationship matters to Malishka. The next day Ahana hears how everyone is insulting Lakshmi. Ahana asks Lakshmi why she is bearing everyone's insults? You know that you're not pregnant and That pregnancy report is mine.
Lakshmi asks her to leave it and asks If she talked to Gautham about her pregnancy. Ayush asks Rishi to come out from the study room as I know you're thinking about Malishka. Malishka comes there. Rishi says he is thinking about Lakshmi, not Malishka and I feel something is hidden and I don't feel Lakshmi is pregnant. Ayush asks how he feels so.
Rishi says we need to know the truth as I know she can't do it. Ayush asks why he trusts her. Rishi says I'm her husband, I mean we stay in a room and I know about her. Malishka thinks to prove Lakshmi can do it to Rishi.
In the upcoming episodes, viewers going to witness Ahana will say to Lakshmi that she will reveal the truth to everyone but Lakshmi stops her. Malishka will call Balwinder. Balwinder will arrive at Oberoi's house and reveals to everyone that he is the father of the baby and asks Lakshmi to come with him. Lakshmi will stand shocked.
Stay tuned to this space for more updates about Bhagya Lakshmi.