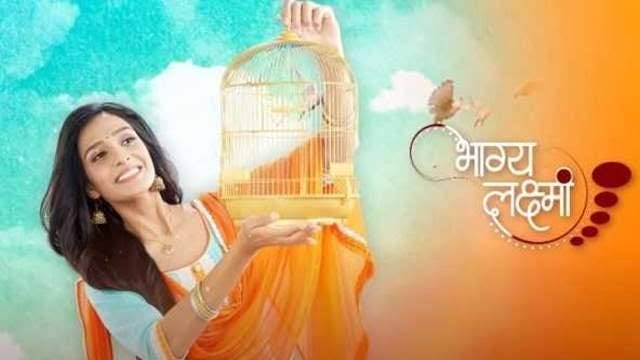 Bhagya Lakshmi Spoilers, Upcoming Story, Latest Gossip , Future Story, Latest News and Upcoming Twist on tellyexpress.com

Zee TV Popular show Bhagya Lakshmi is attracting viewers with an interesting storyline and The judge stops the engagement of Rishi with Malishka has glued the audience to the screens.
This week Bhagya Lakshmi begins with Virendra also blaming Lakshmi for Neelam's condition. Balwinder escapes from the in charge and reconciles with Bobby. Kiran blames Lakshmi for doing it intentionally. Lakshmi prays for Neelam's wellbeing. Rishi meets her Lakshmi. Maliahka takes him with her and says everyone thinks that whatever happened is done intentionally by Lakshmi. Rishi says he knows Lakshmi she will not do something like this. Shalu from a distance hears what Rishi and Malishka are talking about. Shalu hears it and goes. Malishka asks why has our engagement stopped. Rishi says she knows and says mom fell down and I am also wearing the ring you put on me and shows her hand and asks where is her ring. Shalu encourages Lakshmi to express her feelings. Malishka asks what if Lakshmi asks him to stop the engagement saying she wants to be with him. Rishi says he will not change his mind and he is going to do what he says. Malishka feels happy.
Virendra informs Dadi on call that Neelam is fine. Dadi says to Sonia that Neelam is fine and will get discharged. Balwindar hears about it and thinks Neelam is hurt and not Lakshmi now engagement will happen. Rishi asks Lakshmi if she wants to say something right what is it. Lakshmi asks him why is he asking the same question again and again. Rishi gets defensive and starts shouting at her. He says I am moving on with my life with Malishka and you are my past who has to be left behind. Everyone goes to meet Neelam. Neelam says engagement should happen today. Everyone agrees. Lakshmi tries to console Ahana who is worried over something. Ayush asks Lakshmi to stay away from his sister and his family. Shalu thinks of talking to him but Lakshmi stops her. Neelam gets discharged from the hospital. Bobby and Balwindar think to stop the engagement they should steal the ring. Balwindar agrees with the idea and when they start looking for the ring he will kill Rishi in the confusion.
Neelam asks to start the engagement but the Pandit Ji says the auspicious time has gone for the engagement. He asks them to wait for 20minutes. Balwinder steals the ring. Kiran and Malishka accuse Lakshmi for stealing the ring. Lakshmi searches for the ring to prove her innocence. Balwinder tries to attack Rishi. Lakshmi comes there. He escaped from that place. Lakshmi tells him he might be the thief who stole the ring. They chase him. Balwinder collides with Malishka and reveals her that he stole ring to stop Lakshmi engagement. He takes her to room. Malishka slaps him and reveal that it's her engagement. She takes ring from him and helps him to escape. Malishka in a wicked way thanks Lakshmi. Lakshmi thinks she is not correct for Rishi and meets Virendra to tell him about Malishka.
Neelam doesn't let Lakshmi reveal Malishka's behavior to Virendra. Engagement gets started. Rishi is about to put the ring on Malishka's finger but Shalu comes there with the judge. The judge stops the engagement and tries to call the police to get Rishi arrested. Lakshmi intervenes and says it's her fault. The judge scolds her. She also lectures everyone believing what Lakshmi said. Judge asks everyone to leave. The judge advises Lakshmi to understand Rishi's love, Rishi is confused, so show him a good way and don't force him. Lakshmi says Rishi told me that he is waiting to marry Malishka post divorce. Judge asks her to not trust his words and I saw Rishi only loves you and people around you are separating you both so that Rishi can go to Malishka. The Oberoi blame Lakshmi once again for their humiliation. Shalu tries to reason with them saying Lakshmi saved their respect. Karishma stops her and asks her to leave the house.
Malishka argues with Lakshmi. Lakshmi warns Maliska saying now she will not let her near Rishi as he is written in my Bhagya. Malishka challenges Lakshmi to fail her. Malishka leaves and runs into Shalu. Malishka tells Shalu that her punishment will be given to her sister. Shalu warns her not to mess with her sister. Lakshmi hugs Shalu and tells her that she will not allow Malishka to stay beside Rishi. Shalu hugs Lakshmi. Malishka tells Rishe that he should punish Lakshmi for what she did. Rishi says he will never allow Lakshmi to taint their family reputation. Shalu returns home and learns the truth about Balwinder from Neha. Malishka sees Lakshmi on the balcony. She hugs Rishi and tells him their happiness is spoiled as someone's evil eye may fall on them. Rishi assures her that they can marry after 2 months. Malishka kisses him and smirks seeing Lakshmi.
Rishi notices Lakshmi. Lakshmi tells Rishi that he can't become of Malishka with his half engagement and wipes his cheeks. She tells him that no Malishka can come into your life in 2 months and 1 week as you're still married to me. Shall warns Balwinder. Malishka calls Rishi. Lakshmi picks the call of Malishka and warns her not to interfere with them in Punjabi slang. She takes his phone and asks him to promise her that he will behave well with her to get his phone. Rishi dumps his phone on water and orders new phone. He calls Malishka and tells her about the same. Ayush says it's good if Lakshmi leaves from their lives. Lakshmi gets hurt hearing his words.
In the upcoming episodes, viewers going to witness Lakshmi will tell Ayush that nobody can break her marriage with Rishi and she is his wife till long time. Rishi will tell that he thought that he shall get a new phone when he is starting his new life. He will ask Malishka to save her number. Lakshmi will ask Rishi, what is her number. He will tell her the number which shocks Malishka. Later Malishka will try to set his collar, and Lakshmi comes and stops her. Malishka will say you were in the kitchen. Lakshmi will say you got the chance to cross the limits.
Stay tuned to this space for more updates about Bhagya Lakshmi.