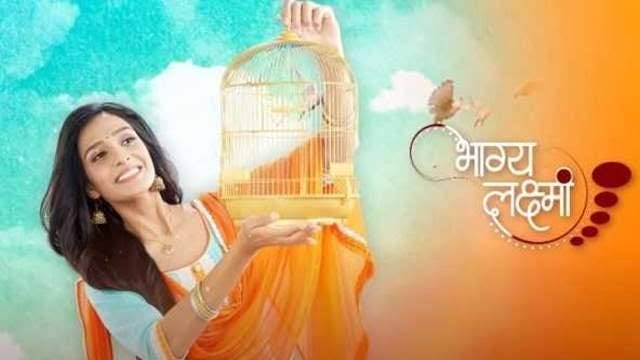 Bhagya Lakshmi Spoilers, Upcoming Story, Latest Gossip , Future Story, Latest News and Upcoming Twist on tellyexpress.com
Zee TV Popular show Bhagya Lakshmi is attracting viewers with an interesting storyline and Lakshmi decides to confess her love to Rishi has glued the audience to the screens.
This week Bhagya Lakshmi begins with Lakshmi arriving at the Oberoi house and she tells Rishi that she came to witness his engagement. Rishi explains to Malishka and others that Lakshmi has gone to Rano's house and he called her here to show that she doesn't matter to me anymore. Malishka thanks Shalu for helping her indirectly. Bani asks Shalu about what Malishka Said. Bani asks her why did she do that as because of her Lakshmi is facing a lot of problems. Shalu says she did it because Malishka is giving false reports to the reporters and she is going to tarnish Lakshmi's reputation.
Bani asks you said you had a plan to stop the engagement what is that. Shalu says it's Ayush. Bani asks what if Ayush is not in our hands. Shalu explains to her this is the only way. Shalu argues with Ayush for not trying to stop the engagement. He tells her Lakshmi is changed. Abhay advises Lakshmi to leave Rishi and move on as there is nothing in this relationship.

Shalu tries to convince Ayush but he refuses to help her. Ayush goes and asks the couple to dance. Malishka and Rishi dance as a couple. Lakshmi also dances with another person. During partner exchange, Lakshmi comes to Rishi. Lakshmi says you are a good person but if you wanted to leave me why were you so good to me. Rishi stops dancing and Lakshmi leaves the dance floor. Bobby sees Lakshmi and Rishi on the dance floor and calls Balwindar and tells him that Rishi and Lakshmi are getting engaged.
Balwinder asks how did he live even the third time and he decides to kill Rishi at the party. Other and Virendra taunts Lakshmi. Pandit calls Bride and groom. He asks Rishi to make Malishka wear the ring. Bani asks Rano why she looks hurt. Rano says Lakshmi is our family so I will be hurt. She asks Lakshmi to fight back by teaching them a lesson. Lakshmi says leave it and maybe Malishka is right that he is not written in my fate. The ring goes to Lakshmi's feet. Malishka asks Bani to give her a ring. Bani refuses. Rishi asks Lakshmi to pass the ring. Rishi. Lakshmi gives ring to him and questions why he is doing this with her.
Lakshmi asks Rishi about their relationships. Rishi humiliates her by telling her he doesn't love her which turns out to be her daydream. Rishi takes the ring and tries to put the ring in Malishka but she asks Rishi to first clean it as it fell down. Neelam takes the ring to clean it. Sonia insults Shalu and Bani.
They argue with Sonia. Sonia complains to Ayush about it. Ayush tells her he will handle Shalu. Ayush takes Shalu aside and confronts her but she leaves telling she is correct. Lakshmi stares at Rishi. Rano sees her and says don't leave Rishi as you love him. Malishka mocks Lakshmi to leave Rishi's life post their engagement. Lakshmi says you can't make me leave from Rishi's life before 3 months.
Malishka says this engagement ring is enough to send you out of this house and if you can't find the way then fight with me and stop this engagement if you can. Lakshmi says I can stop it if I want to and Rishi is related to me not you. Rishi comes there and asks what's happening. Malishka tells him half matter and says she can't bear if anyone feels for him.
Rishi asks Lakshmi to stop thinking about him as it's Malishka's right. Lakshmi says I didn't say anything wrong and she is nothing to me and you're related to me and we still have a relationship between us. Balwinder arrives for the engagement ceremony.
Rishi stops Lakshmi from talking about their relationship and takes Malishka with him. Later Malishka asks Lakshmi to wear the dress. Malishka and Lakshmi come in the same dress and says Lakshmi will dance at my party. Lakshmi and Malishka dance at the party. During the dance, Lakshmi saves Malishka from getting hurt but gets hurts herself. Everybody takes Malishka away but nobody gives her attention. Balwinder goes near Lakshmi's room but he leaves seeing Shalu. Lakshmi cries over Rishi's behavior towards her. Malishka tells them she is fine.
Rishi leaves the room. Neelam says Rishi looks worried and whether it's for Lakshmi. Malishka says he doesn't care about Lakshmi anymore.
Rishi goes to his room Nd does first aid to Lakshmi. Malishka witnesses it in shock. Malishka confronts him. Rishi tells Malishka that she shouldn't be jealous of Lakshmi. Shalu tells Rishi that it was she who spoke to media reporters and not Lakshmi. Balwinder plans to hurt Lakshmi to stop the engagement. Shalu asks Lakshmi to open up her heart to Rishi and he will stop the engagement.
Lakshmi agrees. Malishka puts the ring to Rishi. Rishi takes the ring and sees that Lakshmi is upstairs watching them. Rishi does not put the ring. Everyone urges Rishi to put the ring on. Rishi points to Virendra and says Lakshmi is upstairs and she wants to say something.
Rishi asks Lakshmi to say what she wants. Shalu also urges Lakshmi. Lakshmi thinks of what she wants to say but no words come out of her mouth. Karishma tells Neelam that I think Lakshmi is doing this intentionally and she wants to stop this engagement. Neelam goes to the stairs to talk with Lakshmi. She slips and falls down. Everyone rush Neelam to the hospital. Malishka and others blame Lakshmi for Neelam's condition.
In the upcoming episodes, viewers going to witness Lakshmi will pray to God for Neelam's wellbeing. Rishi will ask Lakshmi did you want to break relation? Lakshmi will say no. Rishi will say I'm trying to start my new life, you are my past and it's better when you leave it behind and he walks away. Lakshmi wIll share with Shalu that Rishi is starting his new life with Malishka. Neelam will say Rishi will get his happiness today surely and engagement will happen today itself.
Stay tuned to this space for more updates about Bhagya Lakshmi.