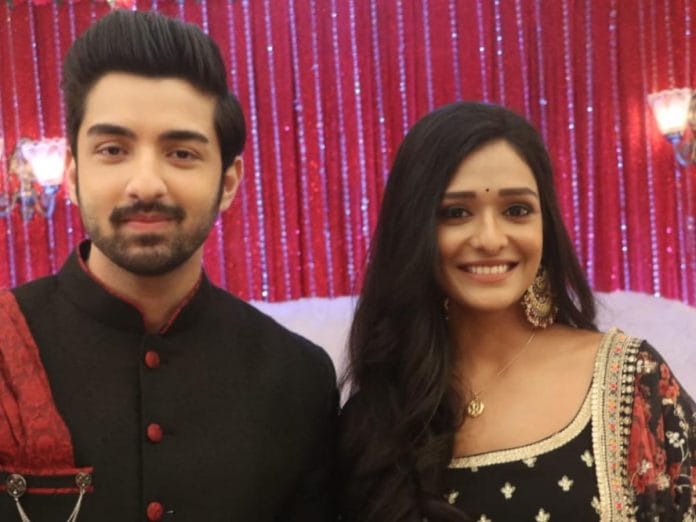 BhagyaLakshmi 10th November 2022 Written Update On TellyExpress.com
The episode starts with Rishi saying to himself that he has to find Lakshmi no matter what? Balwinder brings Lakshmi to Rishi's room. Balwinder puts Lakshmi on the bed. Lakshmi tries to get herself free. The Sindhur box falls outside the room while Lakshmi is struggling with Balwinder. Lakshmi falls unconscious. Balwinder sees that Lakshmi has fallen unconscious.
Rano comments on Lakshmi missing. Rano feels hungry. Neelam apologises to everyone and asks them to eat if they want. Simmi says no and says we came here to share your happiness and says we will wait for Lakshmi for some time. Balwinder talks to Lakshmi who is unconscious. Balwinder says he finally got the chance he was waiting for.
The Dhol people say to Virendra that someone joined them saying he was hired by them for dancing. Virendra says there is nothing like that. The Dhol people say that now that person is missing along with one of their family members that's why they decided to tell them. Virendra thanks the Dhol people for sharing this information.
Balwinder tries to make Lakshmi drink the water and break the fast but Rishi stops Balwinder. Balwinder and Rishi fight each other. Ayush says to Dadi and everyone that Rishi called him and said he is bringing Lakshmi here. Everyone feels relieved hearing this. Dadi thanks Ayush for lying just like she said. It is shown Dadi takes Ayush to a side and asks him to lie that Rishi found Lakshmi and he is bringing her. At the present time, Dadi asks everyone to eat the food. Rano hearing this runs to eat the food.
Virendra says to Ayush what the Dhol people said. Ayush thinks it is Balwinder who came in disguising himself as Dhol wala and says about it to Virendra. Virendra says only Rishi can tell after he comes. Ayush agrees.
Rishi and Balwinder fight and the phone falls away from them. Balwinder asks Rishi how did he find out that they are here. Rishi says Lakshmi's Sindhur brought him here. It is shown Rishi sees Lakshmi's Sindhur box and comes here. Balwinder gets out of Rishi's hold and injects anesthesia into Rishi's arm. Lakshmi calls Ayush and asks him to come to the room. Balwinder says to Lakshmi that he is hers and he will be back to get her and leaves from there.
Lakshmi sees that Rishi is dizzy. Rishi says he has limited time to be conscious. Ayush and Virendra come to Rishi's room. Rishi asks Ayush to get something for Lakshmi to eat and says he will be unconscious soon. Ayush gets some food for Lakshmi. Rishi breaks Lakshmi's Vrath even in his condition. After breaking Lakshmi's Vrath Rishi falls unconscious in Lakshmi's hands. Virendra asks Lakshmi to eat something. Lakshmi asks Virendra how can she eat when Rishi is like this. Virendra reminds Lakshmi what Rishi said and asks her to eat. Virendra says Lakshmi will not listen and asks Ayush to give the plate. Ayush gives the plate to Virendra. Virendra feeds Lakshmi. Lakshmi says she is very lucky to have Rishi as his husband and Virendra as her father in law. Neelam comes and says Rishi is unlucky to have Lakshmi as his wife. Neelam blames Lakshmi for Rishi's condition. Virendra defends Lakshmi. Dadi and Karishma come to the room. Dadi asks Lakshmi why didn't she eat anything. Dadi asks everyone to leave the room and asks Lakshmi to eat the food.
Dadi asks Neelam what is she doing in the room? Karishma says to Dadi that Neelam went for Rishi. Dadi asks Neelam if she went for Rishi or Lakshmi. Dadi says she is Neelam's mother in law and says she can understand what happened there. Dadi asks Neelam to make Lakshmi hers and says every problem will go away and leaves from there.
Episode ends.
Also See: