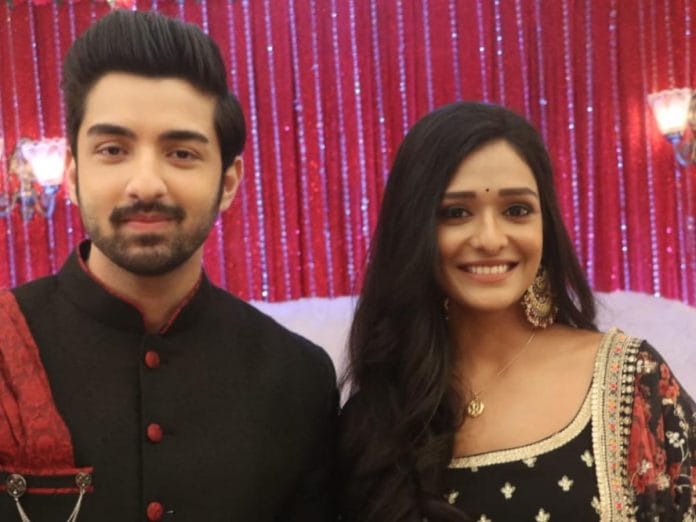 BhagyaLakshmi 10th November 2023 Written Update On TellyExpress.com
The episode starts with Ayush thinking about what happened to Rishi and Lakshmi and why they didn't return to the colony till now. Bani calls Ayush. Ayush attends the calls and tells Shalu and Bani that Lakshmi and Rishi didn't return home. Ayush gives his word to Shalu that he will find Rishi and Lakshmi at any cost and bring them home. Shalu and Bani tell Ayush that they are coming to join him to search for Rishi and Lakshmi.
Ayush takes Goon's phone. He calls Goon's friend and gets to know they haven't found Lakshmi and Rishi till now. Ayush feels relaxed. Ayush sees Rishi coming there carrying Lakshmi. Ayush asks Rishi where they are in the whole night. Rishi says they are in the shop. Ayush says he came there. Rishi says we were in that shop and I thought it was sound by some cat. Ayush places the cot there. Rishi makes Lakshmi sleep on it. Ayush asks him what happened to Lakshmi.
Rishi tells Ayush how he found Lakshmi in the temple. A Goon tries to hit Rishi from the back with an iron rod but Lakshmi pushes Rishi back. Rishi falls on the Goon. Rishi sees that the iron rod is about to fall on Lakshmi so he protects Lakshmi by putting his hand over Lakshmi's head. Lakshmi falls unconscious. The nurse sees Lakshmi and identifies her. She prescribes an injection to Lakshmi. Rishi brings it. She injects Lakshmi and asks him to bring Lakshmi to the hospital. He tells her about the goons behind them. She drops Rishi and Lakshmi at home. Ayush asks Rishi to come back to the Oberoi mansion but Rishi doesn't agree.
Neelam recalls her moments with Rishi from his childhood. Virendra asks the inspector if they found anything about Rishi and Lakshmi. The inspector says Rishi burned Raja's place where he does his illegal work so Raja will try to take revenge on Rishi and his family so I came to warn you guys to be careful. Malishka overhears it. She decides to use the situation in her favour. Neelam asks the Inspector to catch Raja as soon as possible. The inspector says they are on a mission to catch Raja and leaves. Malishka talks negatively about Virendra. Virendra warns Malishka to not talk badly about Lakshmi. He tells Neelam that Rishi doesn't want to risk our lives that's why he is not returning home and another reason is Rishi can't see Lakshmi's insult.
Karishma tells Virendra that Lakshmi is the reason for Rishi's problems. Virendra reminds her that Lakshmi was the one who saved Rishi whenever he was in danger. Neelam recalls everything about how Lakshmi saved Rishi every time. Virendra tells Neelam that her hate for Lakshmi overpowered her love for Rishi. Neelam cries. Virendra tells Neelam that she still has time and requests her to understand that Lakshmi is perfect for Rishi. Malishka questions Virendra why he never took a stand for her. She says Neelam was the one who understood her pain. She asks why couldn't he accept her as a partner to Rishi. She wonders why Neelam is not talking anything.
Episode ends.
Also See: