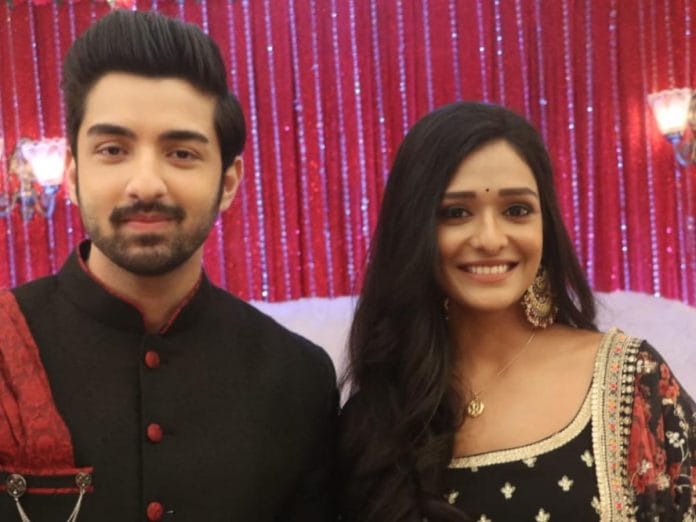 BhagyaLakshmi 11th May 2022 Written Update On TellyExpress.com
The episode starts with Neelam saying she will show Lakshmi her level. Lakshmi's level is this house servant and we will treat her like that. Kiran asks if she can do that. Neelam says we have to fight at her level to win over her.
Malishka says to the reporters that she is not some Savitri she married Rishi and she is getting a divorce for money. Shalu hears everything that she says to the reporters. Lakshmi gives the reporters her photo. The reporters leave. Lakshmi meets Shalu. Shalu goes to talk to Malishka. Malishka asks if she is blind. Shalu asks the same question. Shalu asks how can she play these cheap tricks. Rishi might not feel it but you can see that they both love each other. She says when Rishi loves someone he will fight for them against the world. Shalu agrees and says when he feels his love for Lakshmi he will fight for her against the world. Malishka counters her and leaves. Lakshmi asks how she how's what happened in Mahabaleshwar. Shalu says you know how the media is they want to talk to our family about you. She says she has to pick up Bani and leaves.
Lakshmi feels pain in her shoulder. In their roo,m Lakshmi feels the pain in her left shoulder. Rishi does his work on the bed. Lakshmi asks how is he. Rishi says he has taken his medicine. Rishi asks Lakshmi what happened. Lakshmi says there is nothing. Rishi notices that she is hurt. Rishi gives her the medicine. She is not able to put the ointment on the back. Rishi sees that and offers to help. Rishi puts the ointment on her wound. Rishi says he cannot put anymore as it is not good if you put more ointment. He says he has work to do. Rishi tells Lakshmi that she can sleep on the bed. Lakshmi tells him she will sleep on the sofa. She feels pain. He turns off the light and sees each other.
The next day, Neelam opens the door for Malishka. Malishka tells Kiran and Neelam that she is waiting for the newspaper to see their reaction. Neelam and Kiran what's in it as media people planned to post how Lakshmi saved Rishi. Malishka says it's changed and now they will print about robber bride and greedy wife will be the headlines and Judge will grant their divorce in the next hearing. Rishi notices Lakshmi is in pain. He gives the tablet to her and asks her to compete with him by getting better. Lakshmi smiles. He asks her to not smile. Lakshmi says Khadoos. Rishi asks her to not say it again. He leaves. Lakshmi thinks she knows that he contacted Doctor before giving her tablets and she says she likes him. Lakshmi calls Shalu and asks where is she.
Shalu brings newspapers. Malishka takes papers from her. Kiran asks Malishka to bring them telling her they will check the article too. Shalu asks Lakshmi to come to check the article. Malishka gets shocked seeing the praising articles of Rishi and Lakshmi. Malishka cries seeing the article that she is satan. Malishka gets hyper and breaks everything asking who did it. Rishi goes to her. She leaves asking him to leave her alone. Malishka Locke the door and thinks she can't tolerate it if someone calls her another woman. Neelam asks Malishka to open the door. Malishka opens the door hiding the broken vase. Neelam asks Malishka to not worry about the article and she assures her that she will take legal action against the reporters. She leaves telling Malishka that they are with her. Malishka calls Reporters and confronts them about why they mentioned her as sautan. The reporter asks if she is angry about printing the correct news. He disconnects the call. Shalu meets Malishka and tells her that she knows who changed the story. Malishka asks who.
Episode ends.
Also See: