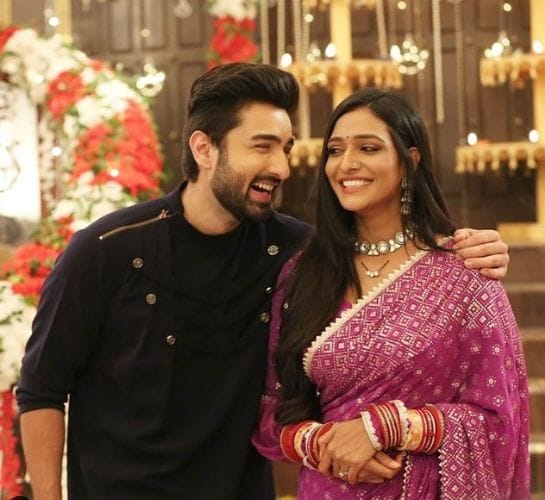 BhagyaLakshmi 12th January 2023 Written Update On TellyExpress.com
The episode starts with Rano asking Bani if they took everything. Rano gets a call from Balwinder and says her money is ready. Rano gets excited hearing this. Rano covers it up as Bani is beside her. Rano cuts the call and asks Bani to go to the house and says she has work to do. Malishka thinks Lakshmi did black magic on Rishi. Sonal feels frustrated with Balwinder's behaviour. Malishka asks Sonal to calm down. Sonal comes and says to Malishka that she should stay away from Balwinder and says if anyone knows that she has connections with Balwinder then their plan will fall apart. Sonal says this time her marriage with Rishi should happen by hook or by crook. Malishka says she also wants her marriage to happen with Rishi. Devika drops the tray. Malishka and Sonal see that Devika is looking shocked. Malishka and Sonal ask Devika why is she looking shocked and why did she drop the tray? Devika says she saw a lizard in the wall that's why she dropped the tray. Malishka and Sonal see that there is no lizard on the wall. Devika says she will go and call Mukesh and leaves from there. Malishka and Sonal worry and think if Devika really heard them talking or not. Malishka decides to go after Devika to see if she heard them or not. Devika thinks she should go and tell Dadi.
Lakshmi recalls Rishi. While Lakshmi is cooking Rishi comes to the kitchen. Rishi comes to the kitchen and teases Lakshmi as she puts sugar instead of salt in the curry. Lakshmi asks Rishi to leave the kitchen as he is distracting her. Rishi applies Haldi to Lakshmi and teases her. Lakshmi asks Rishi to leave. Lakshmi thinks to herself now only memories are there.
Rano comes to Balwinder and asks Balwinder if he brought money. Balwinder gives rs 2 lakhs to Rano and says this is advance. Balwinder says he will give the remaining money after the marriage. Rano says she wants money before marriage. Balwinder agrees and says if she couldn't do Lakshmi's marriage with him then he will come for Neha. Rano warns Balwinder to stay away from Neha.
Devika comes and says to Dadi that Malishka and Sonal are behaving suspiciously as they thought she heard them talking. Dadi asks Devika if she heard them talking. Devika says no. Malishka feels relieved hearing that Devika didn't overhear them talking. Devika shares her suspicion with Dadi that Sonal and Malishka might be hiding something. Dadi says it would be reasonable if she heard something but she didn't hear anything. Dadi asks Devika not to think about too much.
Ayush and Shalu think this is a conspiracy and they feel suspicious of Malishka. Shalu asks Ayush to do something. Ayush says he doesn't have any proof against Malishka.
Balwinder comes to Lakshmi and offers to help saying he will help her with holding the bags. Lakshmi rejects his help and asks him to leave. Balwinder doesn't leave. Balwinder reminds Lakshmi that now she is divorced and he is also single and they can marry. Rishi sees Balwinder harassing Lakshmi and runs Balwinder over with a car. Balwinder jumps to a side to escape. After Rishi comes out he fights with Balwinder. Balwinder hurts Rishi's hand. Balwinder dares Rishi to kill him infront of Lakshmi. Lakshmi tries to stop Rishi but he doesn't listen to her. A person passes by Balwinder and gives him a knife. Lakshmi sees the knife in Balwinder's hand.
Episode ends.
Also See: