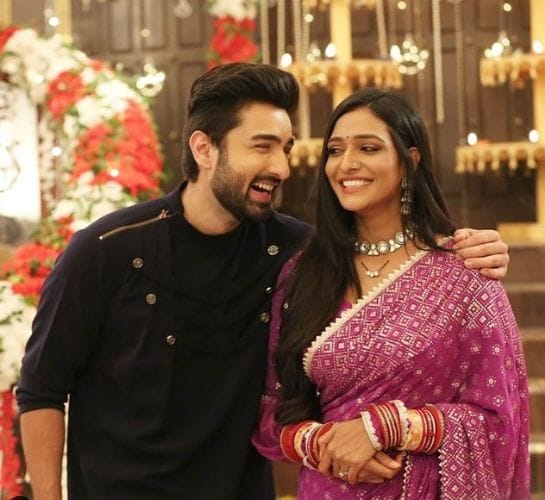 BhagyaLakshmi 13th November 2022 Written Update On TellyExpress.com
The episode starts with Ayush seeing Shalu. Shalu feels that a stalker is following her and calls Ayush. Shalu says someone is following her. Ayush teases Shalu. Ayush sees that guests left their gifts in the car and goes back to give the gifts. On the phone, he says to Shalu that he will make the stalker go away. Shalu sees that the car really left and asked him how he did it. Ayush makes up a reason and cuts the call.
Some rogues on bikes really eve tease Shalu. Shalu decides to call Ayush for help. Ayush comes in a car. Shalu says they are harassing her. Shalu says to the rogues that Ayush will beat them up. Ayush sees that there are a lot of guys and gets in the car and drives away. The rogues who see Ayush running away make fun of him. Shalu sees this and calls for Ayush.
Lakshmi asks Rishi why didn't he say anything when Kiran is talking against her. Lakshmi asks Rishi why didn't he say to Kiran that Lakshmi is his wife. Rishi says Kiran already knows this. Lakshmi gets angry at Rishi and leaves from there.
Shalu tries to run away from them but the rogues follow her. Ayush comes and asks Shalu if everything is alright. Shalu asks Ayush why did he come back when he ran away? Ayush says because he brought help and shows the police. The police get down and take the rogues into custody. Ayush says to the rogues that he will not take law into his own hands. He also says he would never allow anything to happen to Shalu. The cops take the rogues away. Ayush says to Shalu that he is using mind and says he knows he can't beat 4 people up that's why he called the people.
Rishi asks Lakshmi why is she this angry? Lakshmi asks Rishi not to take her name. Rishi gives a name to Mirchi and says about it. Rishi compares Lakshmi with Mirchi and says he didn't talk at that time because he knows she doesn't need her help. Rishi says if he did help her then everyone will think she can't fight her own battles. He also says he feels happy when she claims her rights on him. Lakshmi hearing this feels happy and leaves from there.
Ayush asks Shalu what is she thinking of? Shalu says he impressed her today. Shalu says he is like Billu in her village. While Shalu starts praising Billu, Ayush gets jealous and stops the car. Shalu asks Ayush why did he stop the car? Ayush says he is jealous. Shalu asks why is he jealous? Ayush starts comparing himself with Billu. Shalu says Billu is her cousin brother. Ayush feels happy hearing this and starts the car. Shalu thinks of why did Ayush feel jealous. Ayush stops the car and asks Shalu to get down. Shalu asks Ayush what happened? Ayush makes Shalu get down from the car and shows that her home came. Shalu asks Ayush why didn't he say directly. Ayush comments on it. Neha sees Ayush and requests him to drop her at her friend's house. Ayush says he will not do it. Neha feels sad and leaves from there. Ayush gets in his car and leaves. Neha asks Shalu why didn't she anything to Ayush. Shalu says Ayush drove away before she said anything. Neha says she knows what Shalu is doing and leaves from there.
Lakshmi recalls what Rishi said in the kitchen and feels happy. Lakshmi recalls memories of Rishi and herself and feels happy. But Lakshmi recalls what Karishma said to her and Neelam said about her and feels sad.
Episode ends.
Also See: