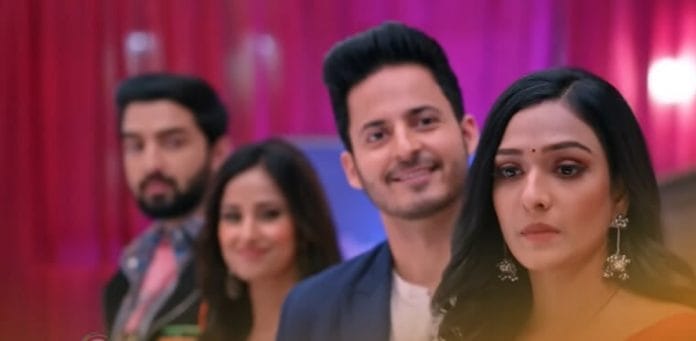 BhagyaLakshmi 13th November 2023 Written Update On TellyExpress.com
The episode starts with Abhay coming and saying to Virendra that what they did isn't right? Virendra asks Abhay what is he talking about? Abhay reminds Virendra how they gave them the word that they will do Rishi's marriage with Malishka but it didn't happen and now they are accepting Lakshmi as their daughter in law. Abhay reminds Virendra how Neelam came to their home and made a promise that she would do Rishi and Malishka's marriage. Neelam admits her mistake and says she thought Malishka was the right fit for Rishi but now she realised that Lakshmi is correct for Rishi.
Abhay says to Neelam that he will never forgive them for what they have done to his daughter and says he will file a police complaint against them. Virendra tells Abhay that he didn't expect this behaviour from him. Abhay says they forced him to take this step. Neelam asks Abhay to do whatever he wants. Malishka thinks Neelam made her an outsider. Neelam apologises to Malishka for not fulfilling her word. She tells Malishka that she is her choice but she needs to respect Rishi's love too. Malishka says it's fine.
Abhay questions Malishka about why she is forgiving Oberois. Neelam asks Malishka to do Lakshmi and Rishi's marriage arrangements like Lakshmi did for her and Rishi's marriage. Abhay says he won't let it happen and tries to take Malishka from there. Malishka stops Abhay and tells him that she will fulfill the responsibility Neelam gave her. Abhay asks if she doesn't have any self-respect. Malishka says she respects Neelam as her mother so she will fulfill her responsibility. Abhay leaves from there.
Neelam tells Malishka that her respect for her increased. Malishka tells Rishi that his happiness matters to her. Malishka says to the Oberoi family that on today's Karwa Chauth marriage is going to happen. Shalu and Bani come there. Shalu asks Malishka what is she speaking about and says Rishi is already married. Malishka says Rishi is going to marry her. Everyone is surprised with Malishka's announcement. Shalu questions her. Malishka says she is kidding and says Rishi and Lakshmi are getting married. Ayush tells them it's happy news. Shalu feels happy. She asks Ayush about Lakshmi.
Shalu and Bani go to Lakshmi's room. They ask Lakshmi to wake up to celebrate the happy news. Rishi comes there. He tells Shalu and Bani that Lakshmi is sleeping due to medication and will get into consciousness in a while. Rishi holds Lakshmi's hand. Lakshmi moves her fingers. Rishi asks Lakshmi to come to her consciousness for her sisters. Lakshmi opens her eyes. Rishi and Lakshmi's sisters feel happy. Lakshmi sees Rishi. Rishi asks if she is fine. He asks her to not take stress. He asks Lakshmi to get ready as a Bride to get married to him in front of his mother and family. Lakshmi stares at him. Rishi asks Shalu and Bani to ready Lakshmi and leaves. Shalu tells Lakshmi that her life will be full of happiness from here onwards.
Neelam asks Mukesh to check the arrangements. She calls Pandit and asks him to come soon. Virendra thanks Neelam for understanding Rishi's love. Neelam smiles. Malishka feels jealous.
Bani and Shalu ready Lakshmi as a bride. Bani tells Shalu that Lakshmi didn't come to her full senses. Shalu says it's because of medication. Ayush helps Rishi to get ready. Rishi tells Ayush that he is so happy. Malishka readies in similar attire like Lakshmi. Everyone gets ready for Rishi and Lakshmi's marriage. Bani sees Malishka. She tells Malishka that they are ready. Malishka asks if Lakshmi gains consciousness. Bani says not yet and we will get to know what happened once Lakshmi comes to her senses. Malishka thinks about doing something before Lakshmi exposes her.
Episode ends.
Also See: