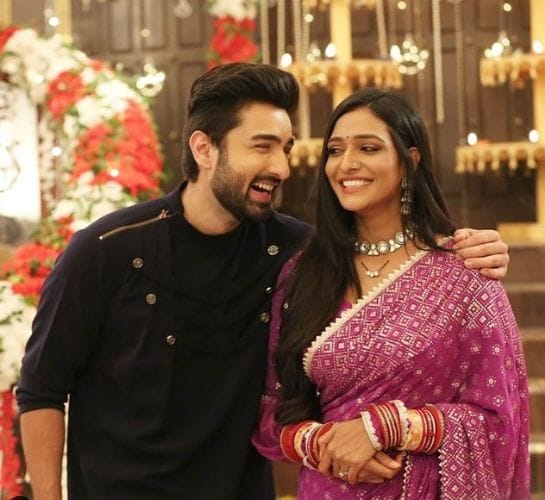 BhagyaLakshmi 14th May 2022 Written Update On TellyExpress.com
The episode starts with Malishka recalling the insulting words of the Ngo woman. Shalu wipes Lakshmi's tears. She apologizes to her telling her she didn't mean to hurt her. Lakshmi says I know it from before but still it hurts me and I want to live with moments where Rishi is with me but I know it's just a dream and it will break once I woke up. Shalu says it happened because of the news she gave to reporters. She apologizes to her.
Rishi reaches home and why noone is attending his calls. Neelam says it's not to be discussed on call that's why I called you home. She tells him how Malishka locked herself in the washroom. Rishi asks if she is upset with articles in papers. Neelam says so much happened because of that article and Ngo woman came here and insulted us because of Lakshmi. Neelam says those women may never enter here if Lakshmi didn't call Malishka as another woman in your life and those women darken Malishka's face. Rishi gets shocked. Karishma and Kiran, Dadi tells him how many insults they faced. Karishma says you're responsible too for this incident as Lakshmi is behaving in this way seeing your support. Neelam asks him to do something. Sonia says Mom is telling you half so do something. Rishi shouts and calls Lakshmi. Shalu holds Lakshmi and signs her that she is with her.
Neelam asks Rishi to handle Malishka telling they can handle Lakshmi later. Rishi knocks washroom door and pleads her to open the door. Malishka comes out and leaves without talking anything to him. Lakshmi and Shalu follow her. Malishka leaves from there taking her mom with her. Rishi says to Lakshmi, you fell this low, I never expected that you can do it and you made us get insulted so you need payback for it. Shalu is about to say she is the one who gave information to a reporter but Lakshmi stops her. Rishi says you took revenge on us and I curse the day I married you and I'm feeling bad for trusting you and you gave the news to media people and insulted us and now I'll show you what I can do, I'll do something that you can't even imagine in dreams and I will show your place to you and he leaves telling he is going to Malishka's house. Neelam says to Lakshmi, now I'll show you your real place in this house.
Kiran tries to stop Malishka. Malishka says she faced insult because of Lakshmi and she tells her she hates Lakshmi and swears on her mom that she will make Lakshmi like other woman.
Lakshmi asks Shalu to call her reaching home. Shalu apologises to her. Lakshmi asks her to not think about it. Shalu leaves. Lakshmi tells Sumo that noone believes her even if she reveals the truth. Lakshmi sees Virendra and goes to h saying Bauji. Virendra says she can't fool him with her fake tears and he asks her to not call him Bau ji. He says I gained respect with my hardwork and one whom you mentioned other women is rich but you ruined everything and I may fight for you if you're good but you just torturing Rishi. Neelam comes there and tells him Lakshmi is happy to see their insult. She takes him. Malishka tells her Mom that she will make Lakshmi and Shalu regret for defaming her. The servant tells Rishi came for her. Malishka tries to go but Kiran stops her and asks her to use the situation to make Rishi hers and show him how much you got hurt and Rishi will be your tonight which will make Lakshmi repent for life. Kiran sees Rishi and asks Malishka to close the door. Rishi asks Malishka to come out but she denies breaking things. Kiran takes him aside and warns him to leave her daughter otherwise she will die in this suffocation.
Episode ends.
Also See: