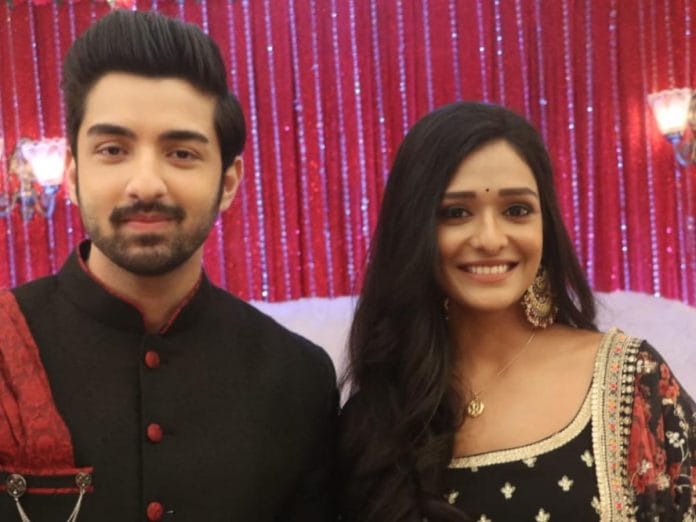 BhagyaLakshmi 14th November 2022 Written Update On TellyExpress.com
The episode starts with Rishi closing the door and asking Lakshmi why did she run away suddenly like that? Lakshmi says she will talk later and says she has a lot of work to do and says she has to put the clothes in the cupboard. Rishi sees that Lakshmi is doing the work slowly so that she doesn't have to answer him. Rishi puts all the clothes inside but Lakshmi takes all the clothes outside and says he didn't put the clothes in the right way. Rishi says to Lakshmi he knows she doesn't want to answer him and says she doesn't need to say anything if she doesn't want to and goes from there. Lakshmi thinks how can she say that she is only his but she can't say it as she feels shy.
Karishma comes to Neelam. Karishma asks Neelam if she is thinking about what Karishma is thinking about? Neelam says she is thinking about Rishi and Lakshmi. Karishma says she is also thinking about the same thing. Karishma says to Neelam that they have to think of how to send Lakshmi out of the house. She says we can't get Rishi out of Lakshmi's control until she is in the house. Neelam says to Karishma that Malishka has to do it and says Malishka needs to make Rishi hers. For that Malishka needs to be cunning like Lakshmi. Karishma agrees with Neelam and talks about it.
Lakshmi asks Rishi when did he come? Rishi says he came when she was busy with her work and asks Lakshmi to tell him why did she run away? Lakshmi accidentally steps on Rishi's foot. Rishi accidentally hits Lakshmi's head. Lakshmi tries to hit Rishi's head again. But Rishi says he will only hit her head when she tells him why did she run away while they are talking? Lakshmi says to Rishi that she is nothing without him and says he is the reason for her existence. Lakshmi says she will never allow anyone to take him from her and says if Malishka tries to take Rishi from her then she will make Malishka disappear. Sonia overhears them talking. Malishka calls Sonia. Sonia says she was about to call her and says what she heard Lakshmi saying that she will make Malishka disappear if she tries to take Rishi away from Lakshmi. Sonia asks Malishka if she can believe this.
Rishi asks Lakshmi she is not saying what does he want to hear? Lakshmi asks what is it. Rishi says to leave it and they collide their head again.
Karishma goes to meet Kiran. Karishma talks to Kiran about Malishka and Rishi. Karishma says Lakshmi is controlling Rishi. Kiran agrees. Karishma asks Kiran to encourage Malishka to make Rishi happy so that he will listen to her. Karishma says she just wants to see Rishi happy. Kiran agrees.
Kiran sees Malishka as sad and asks what happened? Malishka says she has only one problem Lakshmi. Kiran encourages Malishka to fight for Rishi and shows Lakshmi what Malishka is capable of. Malishka agrees with Kiran.
Lakshmi brings Ayush food. Ayush says to Lakshmi that there is no need to feel stressed and says he will eat later. Lakshmi asks him to eat. Ayush agrees. Rishi comes and scolds Ayush for the mistakes he made in the presentation. Ayush apologises to Rishi and says he made a mistake as it was his first time doing it. Lakshmi takes Ayush's side and says Ayush will learn soon. Rishi asks Lakshmi not to take Ayush's side. Everyone comes hearing Rishi's voice. Neelam tries to defend Ayush. Rishi says to Ayush that he made a mistake giving this responsibility to him and says if Malishka is here there wouldn't have been any problem and leaves from there.
Lakshmi goes after Rishi. Lakshmi asks Rishi how can he talk to Ayush like that and says he will learn if he made a mistake. Rishi asks Lakshmi not to take Ayush's side this time and says with Ayush's mistake they would have had nearly crores of loss in the business. Rishi leaves from there.
Episode ends.
Also See: