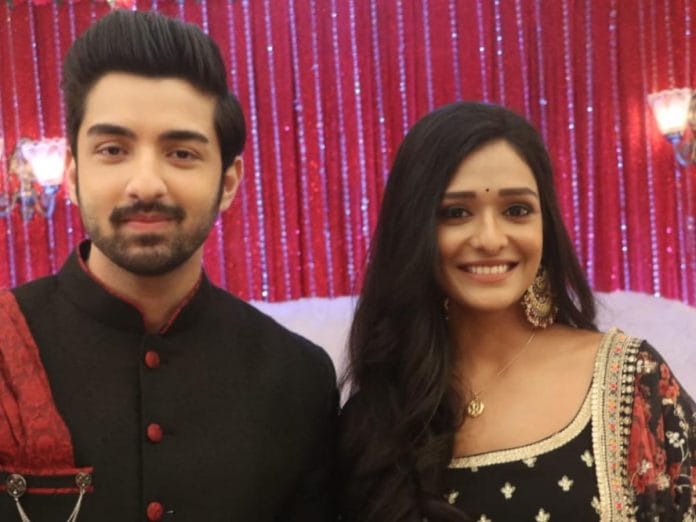 BhagyaLakshmi 15th November 2022 Written Update On TellyExpress.com
The episode starts with Shalu giving ice cream to Rano. Rano asks Shalu if she brought two ice creams. Shalu says she brought her two ice creams. Shalu asks Bani and Neha to come and get ice cream. Shalu gives ice cream to Neha but she rejects it. Neha complains to Rano that Shalu is pretty close with Ayush these days. Rano also says she also saw her with Ayush. Rano asks Shalu not to take the lift from Ayush from now on. Shalu tries to explain but Rano doesn't listen to her. Shalu agrees and says she will not take Ayush's lift from now on. Rano thinks if Neha becomes the daughter in law of the Oberoi family then she will have the upper hand.
Neelam comes and asks Rishi where is Lakshmi? Rishi says he doesn't know and says she might be in the kitchen. Rishi goes to the kitchen. Neelam thinks Lakshmi is not in the kitchen and thinks about where did Lakshmi go.
Kiran asks Shankar if the break fast is ready. Shankar says yes. Kiran asks Shankar to go and call Malishka. He agrees. Shankar goes to Malishka's room and sees that Malishka's room is completely messed up. Shankar asks Kiran to come quickly. Kiran comes and sees Malishka's room is completely messed up and asks Shankar to look for Malishka in the house. Shankar agrees. Shankar later comes and says to Kiran that Malishka is not in the house. Kiran calls Abhay and says Malishka is missing and her room is completely messed up. Kiran says someone might have kidnapped Malishka. Abhay gets shocked hearing this.
Abhay and Kiran come to the police station. Abhay and Kiran complain to the inspector that their daughter Malishka is missing. The inspector asks what happened? Kiran says she met Malishka last night and says everything was fine and says in the morning Malishka's room is completely messed up and is missing. The inspector says they can only file a missing person complaint if they are missing for 24 hrs. Abhay and Kiran argue with the inspector about it. Kiran says she knows who kidnapped Malishka and says it is Lakshmi.
Dadi and Mukesh talk about where is Lakshmi? Neelam comes and complains to Dadi about Lakshmi as she didn't say to anyone where she was going. Karishma says there is no need to care about her as Lakshmi is going to leave this house soon. Dadi reminds Karishma that Lakshmi is this house daughter in law. Neelam says she is worried something is going to happen because of Lakshmi. Dadi assures Neelam and says Lakshmi will only solve their problems. Neelam thinks all the problems are because of Lakshmi.
Abhay says to Kiran that he thinks Lakshmi wouldn't do anything like that and says Lakshmi doesn't have the guts to do it. Kiran says when it comes to Rishi she is a lot more daring than she looks. Kiran reminds Abhay how Lakshmi fought with the terrorists for Rishi. Kiran says she is sure that Lakshmi is the one who kidnapped Malishka. Abhay says then he will not leave Lakshmi and says he will kill her.
Karishma asks Lakshmi where did she go? Lakshmi makes up a reason and tries to leave but Karishma asks when did she go out? Lakshmi says she went out in the morning. Neelam says why didn't she tell Rishi when she went out? Lakshmi says when she was going out Rishi is in the toilet and says she went in a hurry. Lakshmi leaves from there.
Rishi asks Lakshmi where did she go? Lakshmi makes up a reason. Rishi understands that Lakshmi is lying to her. Rishi says to Lakshmi that he understands that she is lying and asks Lakshmi to tell the truth. Lakshmi says there is nothing and asks him to get ready for the presentation.
Neelam and Karishma talk about Lakshmi and think about where did Lakhsmi go. Sonia goes upstairs.
While Rishi is leaving Lakshmi hugs Rishi and says all the best to him in his presentation. Rishi asks Lakshmi if she is not going to tell the truth even now. Rishi says he knows she will tell the truth when the time is right. Sonia thinks Lakshmi didn't tell the truth to even Rishi.
Karishma says to Neelam they should ask Rishi where did Lakshmi go. Neelam says Lakshmi wouldn't have said anything to Rishi. Rishi comes downstairs and asks them where is Ayush? Mukesh says Ayush went to a party last night. Rishi asks Karishma and Neelam to talk to Ayush. Rishi leaves from there.
Abhay calls Virendra and asks where is he ? Virendra says he is in the house. Abhay says he has to talk to him and say they are coming to their house. Virendra asks if everything is fine. Abhay says no and says he will come and talk there. Virendra says to Neelam that Abhay is coming here and says Abhay said everything is not right. They think about why are they coming here. Karishma thinks they are coming to talk about Lakshmi. Lakshmi seems to be recalling something.
Episode ends.
Also See: