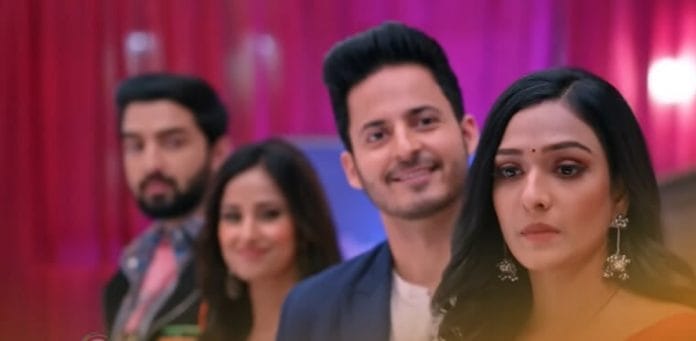 BhagyaLakshmi 15th November 2023 Written Update On TellyExpress.com
The episode starts with Rishi saying to everyone that Lakshmi is right. Rishi also says to his family how he tried to send Lakshmi up the cliff but she get over the cliff as Malishka hit Lakshmi on her head. Rishi slaps Malishka and comments on Malishka. Malishka tries to explain to Rishi but Rishi doesn't allow Malishka to give an explanation saying the truth came out and asks Malishka to stop lying.
Neelam comes to Malishka and slaps Malishka saying to Malishka that Rishi was speaking the truth that she is a devil. Neelam reminds Malishka how she went against the whole family for her but Malishka tried to kill her own son. Neelam comments on Malishka. Malishka asks Neelam to stop and says she loves Rishi so much that she tried to kill herself. Ayush comments on Malishka's love as if Rishi couldn't be with her then he couldn't be with anyone else. Shalu says to Malishka that her thinking is wrong and says Lakshmi never came in between her and Rishi but she came in between Rishi and Lakshmi.
Malishka reminds the Oberoi family how Rishi betrayed her saying Rishi loved her but he married Lakshmi even after the divorce he promised to marry her but again he married Lakshmi. Malishka asks the Oberoi family if anyone can't see her pain. Harleen says to Malishka that Neelam saw her pain that's why Neelam brought Malishka into this house and said to everyone that she is daughter in law of this house.
Rano also comments on Malishka and asks Neelam how is she going to punish Malishka. Neelam says to Malishka that she is going to punish her. Malishka says to Neelam that she didn't try to kill Rishi and Lakshmi. Malishka asks Neelam to ask Lakshmi why is she framing her? Malishka argues with Neelam saying what motive does she have to kill Rishi as she loves Rishi. Ayush sarcastically praises Malishka's acting and comments on her. Malishka still tries to convince everyone that she didn't try to kill Rishi and Lakshmi. Lakshmi says to Malishka that she isn't lying and asks Malishka to admit her crimes. Malishka asks Lakshmi why should she admit to something that she didn't do. Ayush says to Malishka that her true colours finally came out infront of everyone.
Malishka says she didn't do anything and says she will prove it by taking Agni Pariksha. Malishka says she will put her hand into the fire and says if she really tried to kill Rishi and Lakshmi then her hands will get burnt but if she didn't do anything wrong then nothing will happen to her. Malishka puts her hands into the fire.
Sonali brings Malishka out of her daydream. Malishka comes out of her trance and realises it was a bad nightmare.
Abhay says to Kiran that he feels humiliated with Malishka's behaviour as she didn't come with him when he asked her to come with him. Abhay and Kiran talk about how Neelam stopped supporting Malishka and gave in to her son Rishi. Sonal says to them that they are forgetting about Lakshmi and says this is all Lakshmi's plan. Abhay and Kiran think Malishka's life is over once Lakshmi exposes Malishka. Sonal decides to call Malishka and tell her to come home.
Sonali asks Malishka if she is going to go mad as she didn't get Rishi. Malishka thinks why hasn't Lakshmi exposed her till now.
Episode ends.
Also See: