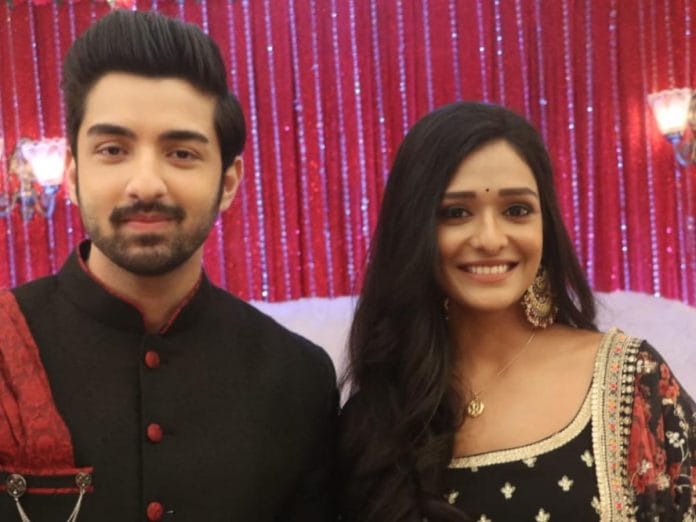 BhagyaLakshmi 16th September 2022 Written Update On TellyExpress.com
The episode starts with Rishi going to Balwinder. Rishi thinks Balwinder is a terrorist and blames him for everything. Balwinder swings the knife on Rishi. Rishi defends himself from Balwinder. Abhay and Neelam are shown to be making a deal with the terrorist. Neelam says to the terrorist that they will give them more money than he asks for. The terrorist asks how much money can they give. Neelam asks the terrorist how much does she want. The terrorist says for every family member he wants 2 lakhs. Neelam offers him 3 lakhs. The terrorist tells them to go bring their family members. Malishka says she will go bring them.
Monish says to Balram that everyone will come back as there is no way out and the police will call them soon. ACP calls Monish. Monish raises his demands saying he wants 3 people released and takes their names. ACP doesn't agree to his demands. Monish threatens him and cuts the call. ACP gets frustrated. The inspector asks what did Monish say. ACP says Monish wants his 3 gang leaders released. The inspector and ACP talk about it.
Malishka comes and talks to Ayush. Malishka says there is no need to worry as we made a deal with a terrorist to allow them to leave. Ayush and Shalu raise their concerns about it. Malishka says to them that Neelam and Abhay made this deal. Virendra asks Malishka about it. Malishka convinces them to go with her.
Balwinder pushes Rishi away and takes Lakshmi hostage. Balwinder threatens Rishi with Lakshmi. Rishi sees that Balwinder is hurting Lakshmi and punches him. Balwinder pushes Lakshmi onto Rishi and runs away. Rishi asks Lakshmi if she is Ok. Rishi and Lakshmi think of how to get out of here. Rishi and Lakshmi decide to contact the police and tell them what is happening inside. Rishi helps Lakshmi stop the bleeding.
ACP calls the commissioner and tells the commissioner about Monish's demands. The commissioner tells ACP to get some time and distract Monish while talking to him.
Rishi and Lakshmi look for the cops. Lakshmi sees a terrorist is about to rape a girl. Lakshmi saves the girl from the terrorist by pushing him away and they both run from there.
Dadi is worried about what is happening and she goes to talk to the police. Dadi falls and Devika catches her. Devika says the terrorists told their demands and the police are thinking of what to do. Dadi comments on it. Lakshmi and the girl hide from the terrorists. Lakshmi gets caught by Balram. Balram takes both of them to Monish.
Another terrorist sees Abhay and Neelam. The terrorist that Abhay made a deal with convinces the other terrorist that they can get money if we allow them to escape from here. The terrorist says we can take 50-50. The other terrorist agrees. Malishka brings Ayush, Ahana,Shalu, Rano, and Virendra. Ayush sees that Rishi and Lakshmi are missing. Malishka says she will go bring Rishi and others. Virendra asks Neelam whose idea was this. Neelam says it's Abhay's. Virendra asks Abhay if they can trust the terrorists. Neelam says what choice do we have. Ayush and Shalu raise their concerns about this.
Episode ends
Also See: