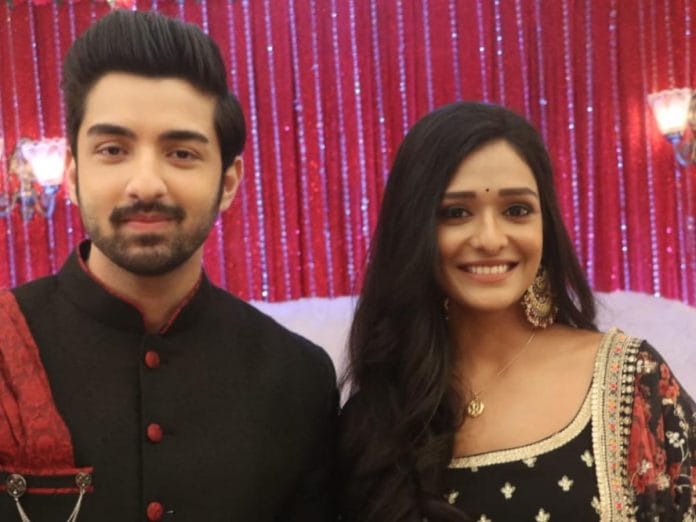 BhagyaLakshmi 17th November 2022 Written Update On TellyExpress.com
The episode starts with Kiran saying to everyone that she doesn't trust Lakshmi one bit. Virendra says he doesn't doubt Lakshmi one bit and says Lakshmi can never do anything like that. Virendra apologizes to Abhay. Virendra gets a call from the office. Abhay asks Virendra to go and says he will handle everything here. Dadi assures Virendra he won't allow anything to happen to Lakshmi. Virendra leaves from there. Kiran says they should call the police. Neelam agrees with them and says they can call the police. Dadi defends Lakshmi. Shalu comes and greets everyone. Dadi asks Shalu to go to Lakshmi. Dadi agrees with Neelam and says Kiran can do whatever they want and says if Lakshmi is proven innocent then she will need answers from them.
Shalu asks Lakshmi what is happening downstairs? Lakshmi says Malishka is kidnapped and everyone is suspecting her. Shalu asks Lakshmi how can they think like that? Lakshmi says they have a reason for it and says she went outside last night without telling anyone. Shalu asks Lakshmi why isn't she telling anyone where she went last night? Lakshmi says she gave word to Ayush. Shalu asks Lakshmi what did he do? Lakshmi says he got into an accident. Shalu asks Lakshmi how is Ayush? Lakshmi says Ayush is fine and says the other guy that Ayush hit is also fine and they admitted him in the hospital. Shalu asks why did Ayush ask her not to tell anyone? Lakshmi says Ayush was drunk yesterday. Shalu asks Lakshmi where is Ayush? Lakshmi says Ayush has fallen unconscious. Lakshmi calls the doctor on Shalu's insistence. Lakshmi asks the doctor how are Ayush and the other guy. The doctor says they are both fine. Shalu asks Lakshmi to tell them the truth. Lakshmi says she can't as she gave her word to Ayush. Shalu asks what will she do if the police come here. Mukesh comes and says to Lakshmi that they are calling her downstairs. He says the police are here.
The police ask Kiran if she is sure Lakshmi is the one who kidnapped Malishka. Kiran says she is sure. Shalu comes and defends Lakshmi saying Lakshmi didn't abduct Malishka. Abhay asks the police to take Lakshmi into custody. Shalu argues with Kiran and Abhay because of Lakshmi. Kiran is about to slap Shalu but the police stop her. Neelam asks Shalu to leave and forcefully pushes her out of the house and closes the door. Lakshmi says she didn't do anything and defends herself but no one will believe her. Lakshmi seeing this cries to herself.
Malishka is shown to be tied to a chair and struggles to get out of it. The police search Malishka's room. A constable finds a jewellery. Kiran and Neelam identify it as Lakshmi's jewellery. Lakshmi also sees the jewelry and admits it is hers. Malishka's head is shown to be covered with a black cloth. Malishka struggles to get free and pleads with Lakshmi to allow her to go. A video recorder is recording whatever Malishka is saying. Abhay asks the police to take Lakshmi into custody. Lakshmi says she doesn't know how her jewelry came here. The police take Lakshmi into custody
Episode ends.
Also See: