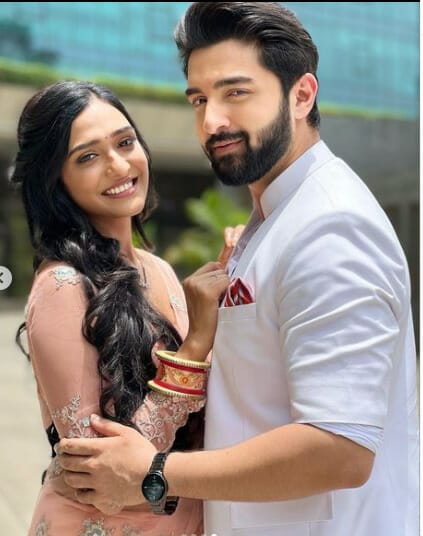 BhagyaLakshmi 17th September 2022 Written Update On TellyExpress.com
The episode starts with Rishi noticing that Lakshmi is missing. The terrorist acts as they are taking them outside. Ayush asks them to stop and says this is not the way out. The terrorists say if they don't trust them the terrorist says they will take them to Monish. Abhay says there is no need. The terrorist takes them to Monish. Sonia, Karishma, and Kiran reunite with Virendra and others. Sonia says to Neelam what happened. Monish asks them where are Rishi and Lakshmi. The terrorist says he will go and find out. Monish praises the terrorist. Monish says they will all die soon. Rishi thinks of what to do. Rishi hears an announcement that wherever he is he has to come to Monish Bhai as Lakhsmi is with him. Rishi conflicts with himself whether he has to go or not. As if Lakshmi is not with them then it might be a trap. Malishka talks to herself about the announcement and says to herself she has to do the only thing that is profitable to her.
ACP calls Monish and says to Monish that he has told the higher ups about his demands. They are thinking about it. Monish threatens ACP and cuts the call. The ACP and the inspector talk about Monish.
Malishka sees that Abhay and family are not here. She thinks of what happened to them. Rishi runs into Malishka. Rishi asks Malishka where are the others. Malishka says she doesn't know. Malishka asks Rishi not to go to the terrorists. Rishi says they have Lakshmi and if he doesn't go they will kill Lakshmi. Rishi says for Lakshmi he can kill if he has to and he can give his life for her. Rishi tries to go to the terrorists. Malishka takes a wooden hammer and beats Rishi from behind. Rishi becomes unconscious. Malishka drags Rishi to a safe place. Balram brings Lakshmi to Monish. Monish countdowns for Lakshmi's life and asks Rishi to come here wherever he is. Malishka thinks to herself this is the perfect chance to kill Lakshmi and if Lakshmi dies then her line will be clear. Virendra pleads Monish to leave Lakshmi. Virendra says he will also die soon and pushes Virendra away. Dadi dreams that Lakshmi is dead. Dadi wakes up from the dream and goes to the court. Devika tries to stop her.
Malishka talks to herself and says to end the countdown and kill Lakshmi. Malishka notices that Rishi is waking up and looks for the wooden hammer to hit Rishi again. Malishka later recalls that she left the hammer at the place where she hit him. Rishi asks Malishka what happened. Malishka asks Rishi who hit him. Rishi says to Malishka that she is behind her so she should have seen who hit him. Malishka says she didn't. Rishi hears Monish counting and goes to see Lakshmi. Malishka tries to stop Rishi but Rishi pushes Malishka away and Malishka acts like she became unconscious. Rishi still leaves Malishka to save Lakshmi. Malishka seeing this says to herself I knew it. Malishka prays for Rishi's safety.
Monish counts from 1 to 10 and 10 to 1 but Rishi still doesn't come. Monish tries to provoke Lakshmi saying that Rishi doesn't care about her. When Monish tries to shoot Lakshmi. Shalu, Ahana, and Ayush try to intervene but they are stopped by the terrorists. When Monish is about to shoot Rishi comes in between the gun and Lakshmi. Rishi requests Monish not to do anything to Lakshmi.
Malishka runs into Balwinder. Balwinder touches Malishka. Malishka slaps Balwinder and says to Balwinder to act according to his status. Balwinder argues with Malishka and says to her that Rishi will die today. Devika says to Dadi not to worry. Dadi says her worry will only go away when she sees her family safe. Monish says to Rishi that he will torture him before killing him as he created a lot of trouble for him.
Episode ends
Also See: