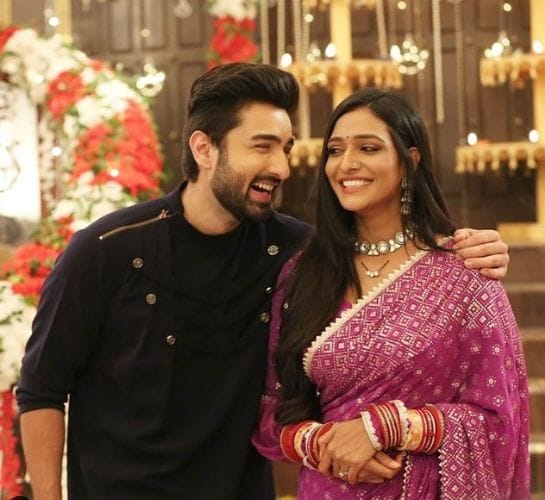 BhagyaLakshmi 18th June 2022 Written Update On TellyExpress.com
The episode starts with Karishma calling Lakshmi a characterless woman. Ayush stops his mom. Lakshmi sees Rishi and leaves from there. Rishi goes behind Lakshmi. She tries to leave. Rishi stops her and asks her to answer him. Lakshmi says you lost right to question me and I may answer you if you question me before revealing our relationship matters to Malishka. Lakshmi says she is here for 2months and will fulfill her responsibilities. Rishi says they don't need her care and asks her to answer him.
Lakshmi asks him to leave her hand saying it's hurting her. Rishi leaves her hand and asks her to tell the truth. Lakshmi says she is angry at him for revealing their personal matters to Malishka. Rishi kicks the door and leaves telling who will think about me when they think about their problems. Lakshmi thinks sorry Rishi, I can't have another way to handle this matter.
Gautham's mother introduces Ahana to her relatives. Guest says they are lucky. Gautham reminds her mom that she needs to call Karishma. She calls Karishma and tells Ahana will come lately as guests are at home and she praises Ahana. Karishma agrees. She informs Neelam that it's good if Ahana stays there for more time as these days she is spending more time with Lakshmi. Neelam says Lakshmi looks like Devi but she is the devil. Sonia and Malishka discuss Lakshmi matter.
Rishi and Ayush come there. Malishka apologises to Rishi for blaming him. Sonia asks them to throw out Lakshmi. Rishi leaves saying he needs some space. Malishka asks Ayush what happened to Rishi. Ayush says he is tired of daily dramas so give him some space. Malishka agrees. Ayush sees Lakshmi and asks if she is playing pregnancy drama to cancel the divorce.
Malishka says don't feel you can play with Rishi's goodness as he gets strength from my love and that's why he revealed the truth infront of everyone and tell me whose baby you're carrying. Lakshmi says tough times make us realise who are near ones and I don't want to tell you about the father of the baby. She leaves. Malishka says Lakshmi is the markesh dosh of their life.
The next day, Lakshmi calls Sonia to eat her favorite food. Sonia says you're not my Bhabhi and Malishka is my bhabhi and have class unlike you and you're characterless. Lakshmi asks why her mood is off. Sonia feels irritated. Neelam comes there. Sonia tells Neelam that Lakshmi is interfering in her matter. Neelam warns her to stay away from her family and tells her that she is just a burden to them and we will get freedom soon from you and she asks Lakshmi to not come infront of them saying she doesn't want Characterless people in front of her. She leaves. Ahana hears everything and feels bad.
Ahana asks Lakshmi why she is bearing everyone's insults? You know that you're not pregnant and That pregnancy report is mine. It's shown how Lakshmi gave her name in the hospital to save Ahana. She advises Ahana to tell truth to Gautham before she is starting her relationship with him. Lakshmi asks her to leave it and asks If she talked to Gautham about her pregnancy. Ayush asks Rishi to come out from the study room as I know you're thinking about Malishka.
Malishka comes there. Rishi says he is thinking about Lakshmi, not Malishka and I feel something is hidden and I don't feel Lakshmi is pregnant. Ayush asks how he feels so. Rishi says we need to know the truth as I know she can't do it. Ayush asks why he trusts her. Rishi says I'm her husband, I mean we stay in a room and I know about her. Malishka thinks to prove Lakshmi can do it to Rishi.
Episode ends.
Also See: