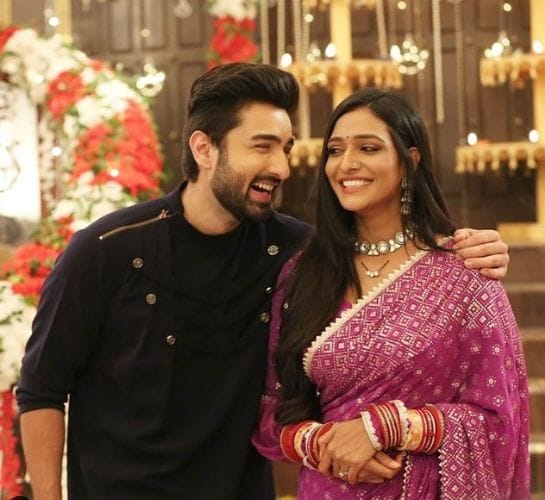 BhagyaLakshmi 18th November 2022 Written Update On TellyExpress.com
The episode starts with Bani thinking about what is happening with Lakshmi? Bani questions God on why does Lakshmi has to go through all the suffering? Bani asks Shalu how is Lakshmi? Shalu cries and doesn't say anything. Bani says to Shalu that she is scaring her and asks what happened. Shalu says Lakshmi has been taken into custody by the police.Bani asks what happened? Shalu says the others are misunderstanding Lakshmi. Bani asks Shalu why didn't she save Lakshmi? Shalu says Neelam threw her out of the house. Bani says just before Shalu came she was fighting with God about why does Lakshmi has to go through all the suffering? Bani says someone is framing Lakshmi. Shalu agrees and thinks who is the one that is doing this.
Malishka is shown to be one who is framing Lakshmi. Malishka laughs to herself and says she kidnapped herself and with this Lakshmi will be in jail and says she will make Rishi hers again. Balwinder praises Malishka's acting. Balwinder says if Lakshmi sees this video even she will think that she kidnapped Malishka. Malishka says by now the police should have found Lakshmi's ear ring that she threw in her room and says the police will take Lakshmi into custody. Balwinder also praises and says they should party.
Abhay apologises to Neelam and says her daughter in law is not right. Kiran also talks bad about Lakshmi. Neelam also says Lakshmi is inauspicious. Neelam assures Kiran that Lakshmi will open her mouth once the police interrogate Lakshmi.
Ayush feels guilty about what he did? Shalu calls Ayush and asks him how is he? Ayush says he is fine. Shalu says to Ayush that Lakshmi is taken into custody by the police because everyone thinks Lakshmi kidnapped Malishka. Ayush thinks if he was there he would have never allowed that to happen. Ayush says he will take care of it and cuts the call.
The police are about to arrest Lakshmi. Ayush comes to ask the police to stop. Ayush asks the police on what basis are a they arresting Lakshmi. The inspector shows the earrings and says we have found the earrings in Malishka's room and says Lakshmi is not saying where did she go last night? Ayush says to the police that Lakshmi is with him last night and says he got into an accident and says he called Lakshmi for help. He also says the fault is the other guys and says he was joined in the hospital and says he can check with the hospital to know if he is telling the truth or not? The inspector says they will verify it and releases Lakshmi's handcuffs. Kiran asks the inspector not to do it and asks what about her daughter? The inspector says they will search for Malishka and gives Lakshmi time till tomorrow 10 am to prove that she is innocent. The inspector leaves from there. Ayush takes Lakshmi from there. Kiran says to Neelam to talk to Ayush as he always sides with Lakshmi. Neelam says Karishma is going to talk with Ayush. Kiran says Lakshmi might hurt Malishka in this time that she is outside.
Balwinder gives food to Malishka and asks her to eat. Malishka asks Balwinder to go to her house and tell Kiran that she didn't get kidnapped and says she kidnapped herself. Malishka says he also needs to bring money for her. Balwinder hearing this agrees to go and says he will bring alcohol as he needs it.
Ayush asks Lakshmi why didn't she tell the truth? Lakshmi says she saw the remorse he felt that's why she didn't say anything. Ayush praises Lakshmi.
Episode ends.
Also See: