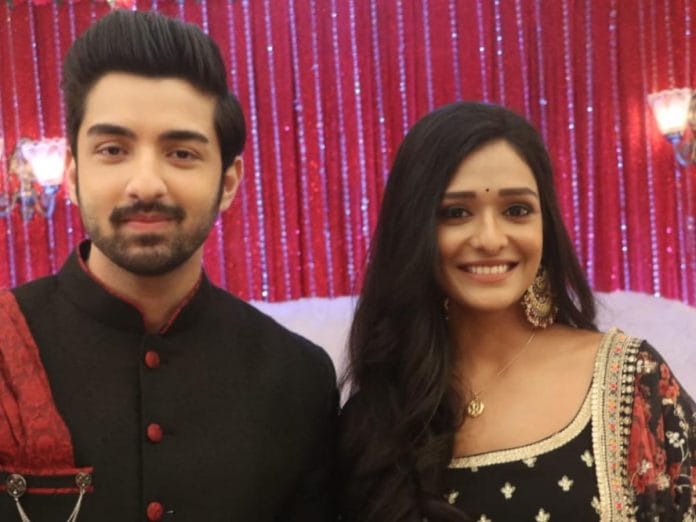 BhagyaLakshmi 19th January 2023 Written Update On TellyExpress.com
The episode starts with Balwinder saying to Rano that Bani is just acting smart. Balwinder catches Bani's lie. Balwinder warns Shalu to maintain manners with him as after the marriage they are going to stay with him. Balwinder asks Lakshmi to teach her sisters some manners. Rano says to Balwinder that she is in more hurry for this marriage than him as she gets a lot of money from him. Balwinder also says he is ready to give the money to her. Rano thinks after this marriage she will get money from both Balwinder and Neelam.
Bani and Shalu think about why Rano is doing this. Shalu says they are just a burden to Rano. Bani says they should run away from here. Lakshmi hears and says to Bani that she should not talk like that. Lakshmi defends Rano but Shalu and Bani say that Rano shouldn't do something like this. After arguing for a while Lakshmi says she doesn't want to talk about this and blames everything is just her destiny. Lakshmi says if Balwinder's marriage with her is written in her destiny then it will happen. Shalu says to Lakshmi that they should not leave everything to destiny. She says if they leave everything to destiny then it is a coward's way. Lakshmi asks then what did she do wrong and this is her destiny. Rishi thinks he can't change Lakshmi's fate as Lakshmi decided to marry Balwinder. Ayush says to Rishi that they don't know what Lakshmi's destiny is but they know what is happening tomorrow and says tomorrow is Lakshmi's marriage with Balwinder. Shalu and Bani try to convince Lakshmi to not do this marriage. Shalu and Bani ask Lakshmi to rethink her decision again. Rishi asks Ayush then what can he do as it is destiny for Lakshmi to marry Balwinder. Ayush says to Rishi that Virendra offered Balwinder 5 crores to stop this marriage. Rishi says but Balwinder didn't agree as destiny didn't allow him to change his mind. Ayush tries to convince Rishi but it doesn't work.
Sonal disturbs Malishka's sleep. Malishka wakes up from her dream and argues with Sonal as she spoiled her beautiful dream with Rishi. Sonal reminds Malishka that her dream of marrying Rishi is coming true because of her. Malishka says this marriage is happening because Rishi loves her. Sonal says she is tired as she just wants to sleep. Sonal asks Malishka to also sleep.
Shalu and Bani pray to God to stop this marriage. Lakshmi stops Shalu and Bani and says there is no need to pray to God as it is her decision to marry Balwinder. Lakshmi argues with them. Shalu and Bani try to convince Lakshmi to not do this marriage. Rano overhears them and scolds Shalu and Bani. Bani falls on Rano's legs and begs Rano to not do this marriage to Lakshmi and says she will forever be their maid if she stops this marriage. Bani says she will marry Balwinder. Lakshmi asks Bani to shut up and not talk like that. Rano has tears in her eyes seeing their sister's love for each other.
Rishi punches the boxing nag recalling what happened. Neelam comes and talks badly about Lakshmi infront of Rishi. Rishi asks Neelam to stop talking badly about Lakshmi and says no one understood Lakshmi in this house. Rishi compares Lakshmi with Goddess Lakshmi and leaves from there.
Rano comments on their sister's love for each other. Guddu comes to Rano's house. Shalu says to Guddu that this marriage is not going to happen. Guddu asks why is that? Shalu says Rano's maternal instinct has woken up. Guddu asks Rano what happened. Rano says she got emotional as she is sending Lakshmi away. Rano takes the dress from Guddu and Guddu leaves from there. Shalu asks Rano. Rano teases Shalu.
Episode ends.
Also See: