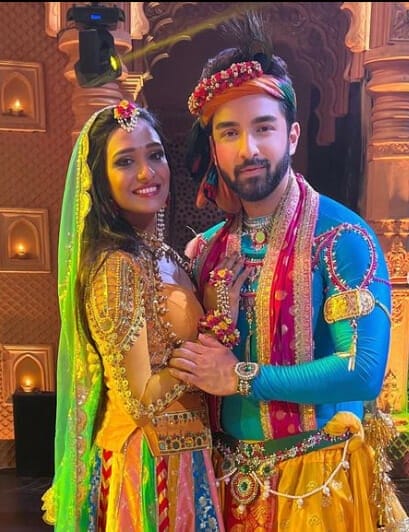 BhagyaLakshmi 19th November 2022 Written Update On TellyExpress.com
The episode starts with Ayush saying thanks to Lakshmi as she kept her word and didn't tell anyone what happened. Lakshmi says she didn't keep her word completely and says she told Shalu and apologises as she broke her word. Ayush says there is no need for her to say sorry. Lakshmi asks Ayush to promise that he will not repeat this kind of mistake again. Ayush promises and says he will never do that. Dadi also praises Ayush and says he did the right thing by saving Lakshmi. Ayush scolds himself. Dadi says only she has the right. Dadi asks Ayush to get freshen up. Ayush leaves from there.
Ayush sees Rishi's photo and apologises to him and says he will never do that kind of mistake again. Ayush says he will act mature from now on. Ayush takes Rishi's photo frame and hugs it. Ayush apologises again.
Dadi talks with Pandit Ji on the phone. Neelam asks Mukesh for some water. Shalu comes into the house. Neelam sees Shalu. Dadi says she called Shalu. Dadi invites Shalu and greets her. Shalu says she doesn't want both of them to argue because of her. Dadi apologises to Shalu on behalf of Neelam. Shalu says there is no need. Shalu goes to meet Lakshmi.
Kiran warns Karishma that his son is getting out of hand and asks her to take care of it. Kiran sees Balwinder and asks him to get out of here. Balwinder asks Kiran if Lakshmi went to jail? Kiran says Lakshmi didn't go to jail. Balwinder says Malishka kidnapped herself to frame Lakshmi. Balwinder asks Kiran how Lakshmi didn't go to jail. Kiran says Ayush saved her. Kiran asks Balwinder if she knows where is Malishka? Balwinder says he is with her. Kiran asks Balwinder to take her to Malishka. Balwinder asks Kiran to bring money. Kiran agrees.
Shalu greets Lakshmi. Lakshmi apologises to Shalu. Shalu says there is no need and says she will go against the whole world for her. Lakshmi says to Shalu that Ayush saved her and says what he said to save her. Shalu asks Lakshmi saying he could also get into trouble with what he said. Lakshmi says that's why she helped Ayush and says Ayush always helps her and says he fights for her all the time. Lakshmi asks Shalu to take food for Ayush. Shalu sees Ayush and hugs him. Shalu says she hugged him to thank him and says he really held up the friendship. Ayush asks Shalu if this is friendship hug. Ayush says she is looking good. Shalu and Ayush do a promo ad on a clothes brand.
Ayush says to Shalu that he didn't save Lakshmi and says Lakshmi saved him. Ayush praises Lakshmi. Karishma calls for Ayush. Ayush goes downstairs.
Balwinder says to Kiran to bring money. Kiran slaps Balwinder as he calls Kiran Mummy ji. Kiran asks Balwinder not to call her Mummy ji. Balwinder agrees. Kiran shows the bag and says there is money in it. Kiran and Balwinder go to meet Malishka.
Karishma asks Ayush if he is alright? Ayush says yes and says he didn't get hurt. Karishma asks Ayush what is she to him? Ayush says she is his mom. Karishma asks Ayush why didn't he tell anyone in the house that he got into an accident and told Lakshmi. Karishma asks Ayush why did he save Lakshmi and asks if he knew what crime Lakshmi did? Ayush says Lakshmi couldn't do that and says even if she did he would support her. Karishma asks Ayush if he will go against her for Lakshmi. Ayush says yes. Karishma hearing this leaves.
Virendra sees Kiran following Balwinder and thinks the kidnappers called Kiran here. Virendra worries about Kiran and follows her. Kiran says to Balwinder that Malishka's life will be over if Oberoi's find out that Malishka planned her own kidnapping. Balwinder assures Kiran that nothing like that will happen and asks her to come. Virendra follows Kiran.
Episode ends.
Also See: