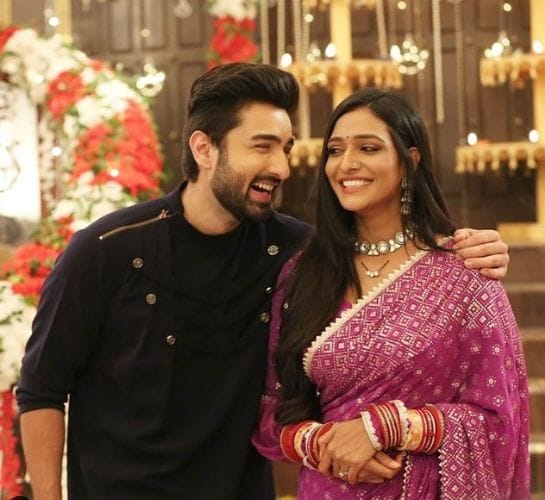 BhagyaLakshmi 19th September 2022 Written Update On TellyExpress.com
The episode starts with Malishka seeing that all her family is caught along with Oberoi family. Malishka looks for Rishi. Abhay asks Malishka why did she come here. Malishka asks Lakshmi if she is happy and blames Lakshmi. Malishka sees Rishi hanged by a death rope and he is standing on ice. Malishka goes to Rishi and asks him "why did you come here?" Malishka says she will make everything right. Malishka goes to Lakshmi and asks Lakshmi to ask the terrorist to release them in exchange for her life. Lakshmi says she asked the terrorists to allow all of them to leave in exchange for her life.
Monish calls ACP and tells the ACP if the government doesn't agree to his demands then he will Rishi and his whole family. ACP says he sent his demands to the higher ups and requests for some time. Monish threatens the ACP that he will kill all the hostages.
ACP calls the commissioner and tells the commissioner what Monish said to him. ACP asks permission to go in and handle the terrorist. The commissioner says it is not in his hands and says he will talk to the home minister about this matter. A reporter hears this and gives the breaking news that Monish said that he is going to kill Rishi and his family if they don't agree to his demands. The cops capture the reporters and take away their cameras. The cops scold the reporters and ask them to go away. Devika sees this and prays to God for Rishi and his family well being.
Monish teases the judge and says he will kill everyone here if the government agrees to his demands. Lakshmi sees that Rishi is laughing. Lakshmi asks about it. Rishi says when people laugh then their mind works really well. Monish hearing this says to Rishi he has a lot of guts. Karishma says to Virendra to call the commissioner and make him agree to their demands. Monish hearing this says let's see if he will help your family. Monish says to them that he will kill Rishi even if they agree to his demands as he put a gun to Monish's head. Malishka seeing this throws file on Monish. Monish sees this and goes to Malishka. Lakshmi comes in between and tries to save Malishka. Lakshmi says to Monish that Malishka just did it in anger. Ayush shows this to the judge and says this is Lakshmi and asks the judge to release Lakshmi.
Monish says he is the judge and he orders that Lakshmi is innocent. Ayush says the judge has to give the verdict, not you. Monish comments and says to the terrorists to set fire. Malishka thinks the fire is for her and apologises to Monish. Monish says the fire is not for her as she is already burning in Rishi and Lakshmi's love. The terrorists put paper around Rishi. Lakshmi says with fire the ice will melt really quickly. Ayush and Ahana blame Malishka for throwing the file and angering Monish. Karishma defends Malishka saying they are in this circumstances because of Lakshmi. Neelam also blames Lakshmi saying she is a curse for her family. Virendra asks Neelam to stop. Monish fires the papers around Rishi. Monish takes the photo of Rishi hanging by the rope on thin ice around the fire.
Dadi is shown praying to God. Dadi sees a note has fallen. Dadi sees the photo and gets worried about Rishi. ACP reads the letter that came with the photo and in it says " Now you see ACP that I am not joking and if you don't agree to my demands then Rishi will die."
Ayush tries to save Rishi. But because of the fire, he couldn't go near Rishi. Lakshmi goes and pushes the table away and she makes Rishi stand on her shoulders. Lakshmi and Rishi start bickering with each other. Rishi asks Lakshmi to leave as she can't handle his weight. Lakshmi says if he is alive then only will she be alive.
Episode ends.
Also See: