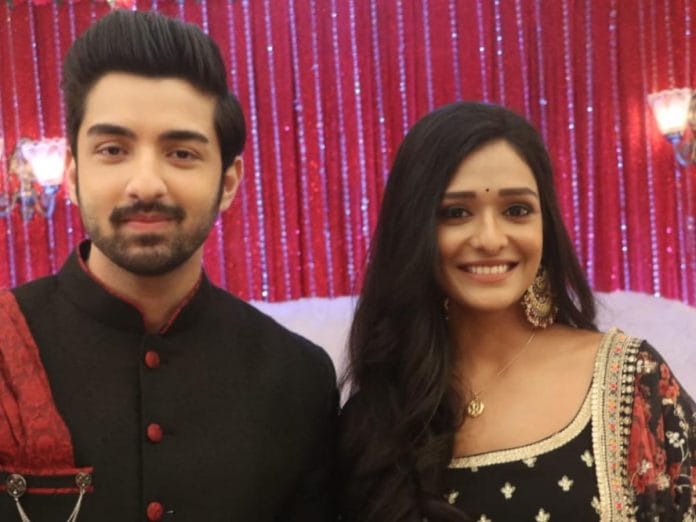 BhagyaLakshmi 1st November 2022 Written Update On TellyExpress.com
The episode starts with Karishma greeting the guests. Karishma meets her friend. Simmi introduces her daughter to Karishma. Rano comes and greets Karishma. Karishma asks what are they doing here? Shalu says Rano wants to break the fast with Lakshmi. Karishma understands. Shalu goes to meet Lakshmi. Karishma asks Rano if Lakshmi can do the Karwa Chauth Vrath. Rano says Lakshmi can do anything for Rishi. Karishma leaves. Rano meets Karishama's friend Simmi. Simmi introduces herself to Rano and says she brought her daughter here and says once Ayush likes her then she will set the match. Rano hearing this thinks about Neha.
Bani comes and sees Lakshmi is sleeping. Ayush greets Bani. Ayush asks Bani where is Shalu. Bani doesn't tell him at first but later tells him that Shalu is in Dadi's room. Ayush leaves from there.
Shalu does massage for Dadi. Dadi praises Shalu saying she has magic in her hands just like Lakshmi. Ayush comes and teases Shalu. Ayush asks Shalu for some massage. Shalu argues with Ayush and asks him if he can handle her massage. Ayush asks her to do it. Shalu uses a lot of force while doing the massage and Ayush stays silent as he doesn't want to embarrass himself. Mukesh says the Pujarin came. Dadi says she will come in a minute. Dadi leaves from there. Ayush asks Shalu to stop doing the massage but she doesn't and they both fall on the bed. Rano sees both of them on the bed. Shalu and Ayush get up from the bed and start arguing with each other. They both see Rano. Rano says she is looking for Lakshmi. Shalu leaves with Rano. Ayush sees his heart beating a lot. Ayush controls himself.
Malishka and Sonia come to Rishi and Lakshmi's room. Sonia asks Malishka what are they going to do outside Lakshmi's room. Malishka reminds Sonia of what she said. Sonia recalls Malishka showing the bottle and saying it is Paneer essence and says we will apply it on Lakshmi's lips. Sonia says then everyone will think she ate Paneer and didn't do the Vrath. Sonia sees the smell and says it really smells like paneer. Malishka and Sonia bring a mutter paneer plate that has been eaten with them. They see that Lakshmi is sleeping. Malishka applies Paneer essence on Lakshmi's lips and her hands. Shalu comes to talk to Lakshmi but she sees that Lakshmi is sleeping and decides to leave. Malishka and Sonia hide behind the bed from Shalu. Dadi comes and says they need to wake up Lakshmi. While Dadi and Shalu are talking. Lakshmi wakes up. Shalu asks Lakshmi if she is smelling any food. Lakshmi sees the plate and asks how did it come here. Shalu says Rishi might have eaten it. Lakshmi says he should have left the plate in the kitchen. Dadi asks Lakhsmi to leave it and come downstairs. Lakshmi leaves along with Shalu and Dadi.
Sonia and Malishka think their plan succeeded. Malishka says there is going to be a blast as everyone will think Lakhsmi ate the food. Malishka and Sonia go to watch the show.
Malishka and Sonia come downstairs. Pujarin asks Neelam who is her daughter in law. Neelam says Lakshmi. Neelam asks Lakshmi to take Pujarin's blessings. Lakshmi takes her blessings. Pujarin blesses Lakshmi to be happy forever. Pujarin asks Lakshmi to take Neelam's blessings. Neelam gives Lakshmi her blessings. Malishka thinks of why didn't their plan work and thinks they have to instigate Neelam. Malishka reminds Sonia about the mutter paneer plate they left in her room. Sonia agrees. Sonia goes to Neelam and asks her to come to a side. Sonia says it's a matter of life and death. Neelam hearing this goes with Sonia. Malishka comes behind them. Sonia says to Neelam that Malishka and herself had a bet about Lakshmi doing the Vrath. Sonia says Lakshmi didn't do any Vrath. Neelam says she doesn't believe them. Malishka tries to convince Neelam.
Episode ends.
Also See: