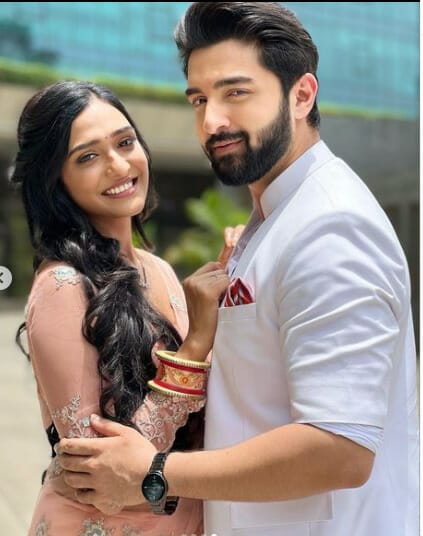 BhagyaLakshmi 1st September 2022 Written Update On TellyExpress.com
The episode starts with Ayush asking Rishi why the police brought him out forcefully. Rishi says he met Lakshmi again after visiting hours so it happened. Shalu asks 'can't they allow her to meet her sister'. Rishi asks her to meet Lakshmi after 2 days once he releases Lakshmi. Ayush says Rishi us husband if Lakshmi and he won't let anything happens to her and I don't let anything happen to you. Ayush promises her that he will make her meet Lakshmi. Rishi wishes Ayush all the best and he tells them that he is going to arrange bail for Lakshmi. He leaves. Shalu asks Ayush if he makes her meet Lakshmi. Ayush fools Inspector that Shalu is unstable and requests him to allow Shalu to meet Lakshmi. Constable asks Ayush if Shalu is his sister. Ayush tells she is not. Ayush takes the inspector aside and tells him that Shalu is his love.
Dadi and Ahana discuss Rishi will save Lakshmi. Rishi returns home. Dadi and Ahana ask where is Lakshmi. Rishi says the hearing is after 2 days and today she can't return. Rishi asks how is his mom. They say she is angry. Rishi says he knows how to manage his mom. Malishka comes there and asks what happened. Rishi says they have to deal the case in Court and Lakshmi is bearing someone's punishment, I will search for the person who is responsible for it and will make the person get punished. Rishi leaves. Malishka thinks don't know what black magic Lakshmi did on Rishi but I will change him. Ahana says one who played with many lives will never get happiness. Dadi says wish they can catch the real culprit. Malishka thinks they can't find her.
Neelam asks Rishi to stop. She asks if he came to insult her again. Rishi hugs her and apologizes to her. She says she doesn't need his apologies, you didn't support your Mom. Rishi says you are misunderstanding Lakshmi, she can't do wrong and this will be proved in court that she is innocent. He says he is only fulfilling his responsibility as a Lakshmi's husband and he asks Neelam to support her in this. Rishi hugs Neelam and says thanks to her. Neelam says to Rishi that she still didn't forgive him. Rishi says but you put your hand on my head that's enough. Virendra talks with Mr Basu on the phone and Rishi asks the phone to talk to Mr Basu. Virendra gives him the phone. Rishi leaves the room talking on the phone. Neelam asks Virendra to stay.
Ayush convinces the inspector to allow them to see Lakshmi. Ayush goes to Shalu and says he convinced the inspector to allow them to talk to Lakshmi. Shalu feels happy and is about to hug him but she doesn't as she remembers what happened. They go to meet Lakshmi.
Balwinder is shown to be drinking with Malishka in a restaurant. Balwinder talks to Malishka in a humiliating way. Malishka throws the drink and tells to Balwinder to not forget his status. Malishka says she is not his atm that he can come whenever he wants for money. Balwinder says I am asking the money for my work not for anything else. Malishka gives Balwinder money and says she is giving him double the money to keep his mouth shut. Balwinder says until the money keeps coming Balwinder will be fine.
Ayush and Shalu meet Lakshmi. Lakshmi says she met Rishi and he said to me that he will get her out soon. Shalu says they know and says we met Rishi and says to Lakshmi that her hearing is day after tomorrow. Lakshmi says there is no need to worry and asks them if they brought food for her. Ayush says yes they brought food and asks Shalu to feed Lakshmi. When Shalu feeds Lakshmi. Lakshmi accidentally bites Shalu's hand. Ayush gets worried and takes Shalu's hand to help reduce the pain. Lakshmi sees this and thinks are they just friends?
Episode ends.
Also See: