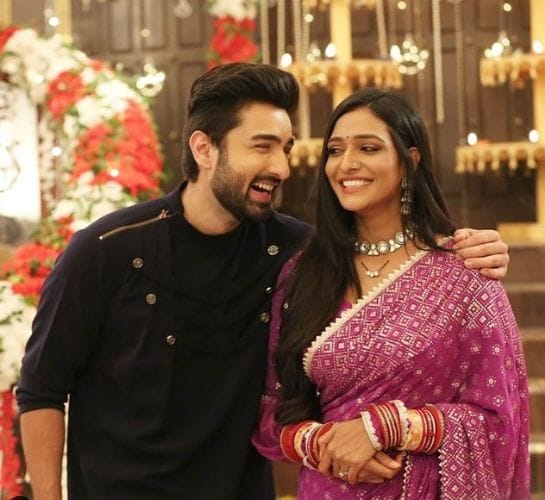 BhagyaLakshmi 20th January 2023 Written Update On TellyExpress.com
The episode starts with Rano saying to Shalu how can a mom say no to her daughter's marriage. Neha says she needs some time to get ready. Rano gives the dress to get Lakshmi ready. Shalu burns the dress. Rano pours water on the dress and stops the fire. Rano scolds Shalu for burning the dress. Rano raises her hand to hit Shalu but Lakshmi stops Rano. Rano asks Lakshmi if she is going to raise her hand on Rano. Lakshmi reminds Rano what she said about their sisters love for each other. Rano asks Lakshmi if she is going to say no to this marriage. Lakshmi stays silent. Guddu comes to Balwinder and says he has given the dress to Lakshmi. Balwinder feels happy hearing it.
Lakshmi comes to Oberoi mansion. Virendra invites Lakshmi into the house. Neelam says she is not going to enter the house. Virendra asks Neelam not to create drama infront of everyone. Virendra and Dadi invite Lakshmi into the house. Abhay comes and asks Kiran where is Malishka? Abhay congrats Malishka. Abhay asks Kiran when is the marriage of Rishi and Malishka. Kiran says they just need to fix the date. Abhay says they have to do it as quickly as possible and not give any chance to Lakshmi. Malishka says there is no need to worry as Lakshmi is going to marry Balwinder today. Abhay thinks this is the right punishment for Lakshmi as Malishka suffered a lot because of Lakshmi. Kiran asks Malishka and Abhay to leave it.
Virendra and Dadi invite Lakshmi into the house but Lakshmi doesn't enter the house. Lakshmi says to Virendra that she thinks of him as her father and makes a request for him. Virendra says he will do anything. Karishma asks Neelam how can Virendra say that and asks Neelam if they are going to give their property to Lakshmi if she asks for it. Dadi reminds Karishma that she didn't ask for it on the alimony. Lakshmi asks Virendra to do Kanyadan for her. Virendra doesn't agree to do Kanyadan to Lakshmi as he knows that her marrying Balwinder is a punishment for her. Karishma convinces Neelam to make sure Lakshmi's marriage happens with Balwinder as Lakshmi might change her mind at the last minute. Lakshmi says to Virendra she just wanted his blessings and leaves from there. Neelam stops Lakshmi and convinces Virendra to do Kanyadan to Lakshmi. Virendra agrees to do Kanyadan to Lakshmi. Rano invites the Oberoi's family to the marriage.
Balwinder says to Guddu that Shalu burnt Lakshmi's dress. Guddu asks Balwinder now what should he do? Balwinder says to Guddu that he thought something like this might happen so he prepared two dresses and two Mangalsutra. His friends praise him for his thinking.
Virendra and Dadi worry about Lakshmi marrying Balwinder. Karishma asks Dadi if she is thinking of bringing Lakshmi back to this house. Dadi says she would have brought Lakshmi here if the circumstances are right. Karishma comments on it. Dadi and Virendra defend Lakshmi. Karishma and Neelam think it is no use talking to them about this. Malishka comes and asks Karishma if Rishi is in his room. Karishma says yes. Malishka asks their permission to go to Rishi's room. Karishma says there is no need for her to ask and she can go into his room. Kiran reminds them she needs to as they are going to be married. Abhay says he is happy as with this marriage friends will become relatives. Rishi looks at his marriage album and thinks of Lakshmi. Malishka sees that Rishi is thinking of Lakshmi.
Episode ends.
Also See: