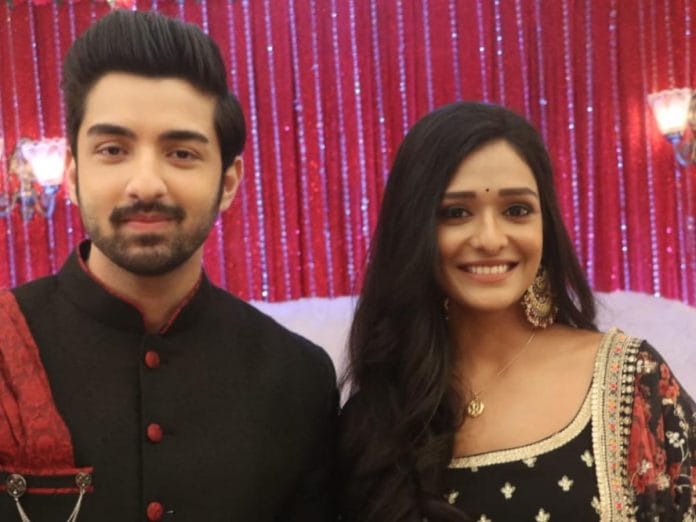 BhagyaLakshmi 20th November 2022 Written Update On TellyExpress.com
The episode starts with Balwinder saying to Kiran we came to where Malishka is. Kiran asks Balwinder to take her inside. Balwinder agrees. Virendra thinks Kiran should have told someone where she is going? Malishka asks Kiran why is she here? Kiran slaps Malishka.
Shalu worries about Ayush. Lakshmi comes to Ayush and says to him he should not talk to the elders like that. Ayush says they force him to talk like that. Lakshmi argues with Ayush and says he has to respect the elders and never talk to them like that. Ayush says he will never talk like that and also says he will respect her. Ayush says they were getting diverted from the topic and reminds Lakshmi about the deadline. Shalu asks Lakshmi what is she talking about? Lakshmi says the police released her on the condition that she has to prove herself innocent before 10 o clock. Rishi feels good as he presented really well and in the break, he calls Lakshmi to talk to her. Lakshmi takes Rishi's call. Lakshmi asks Rishi how the meeting went.
Rishi says it went really well. Lakshmi says she wants to say something to him. Rishi sees that Abhay is calling and says he will talk to her later. Abhay's call gets disconnected and he calls Lakshmi again to talk to her. Lakshmi says to Rishi that she has something important to say to him. The staff asks if they can resume the meeting. Rishi agrees. Rishi says to Lakshmi he will talk with her later. Lakshmi agrees. Lakshmi says to Ayush that Abhay called Rishi and Abhay will talk to Rishi about Malishka's kidnapping. Ayush agrees and they think of what to do.
Dadi says to Karishma that she has to be happy as Ayush knows the importance of relationships. Dadi gives an advice to Karishma saying to think of why Ayush will share everything with Lakshni and doesn't share with her. Dadi asksKarishma to take Lakshmi's side and think about it. Dadi says the truth is always on the side of Lakshmi.
Kiran shouts on Malishka saying she is an idiot. Malishka says she is a genius. Kiran asks Malishka to prove it. Kiran says she thought Malishka was really kidnapped. Malishka says this is her genius plan and says even she believes that Lakshmi kidnapped her and asks Kiran if Lakshmi is arrested or not. Kiran says no and says Ayush got into an accident and Lakshmi is with Ayush the whole night and says the doctors will testify that Lakshmi is in the hospital the whole night. Lakshmi, Shalu and Ayush think of how did Lakshmi's earring reach Malishka's room. Lakshmi thinks some one stole it and kept it there to frame Lakshmi.
Balwinder says Malishka stole the earrings from Lakshmi's room when Sonia told her that Lakshmi will do anything to keep Rishi from her. Balwinder says he helped Malishka to find a good hide out. Balwinder asks Kiran how is the hideout. Kiran comments on it. Kiran argues with Malishka saying she is underestimating Lakshmi. Kiran reminds Malishka how smart is Lakshmi. Malishka asks Kiran why is she supporting Lakshmi instead of her. Kiran says her plan is hopeless. Kiran says they will save her from the police but if Rishi finds out she planned her own kidnapping then she will loose Rishi forever. Virendra sees that the door is locked from the inside and thinks of calling the police afte he sees the situation inside. Lakshmi thinks of who kidnapped Malishka.
Lakshmi recalls Malishka is talking on the phone saying she is going to meet someone in a disco. Lakshmi and Ayush decide to go to the disco to find out who kidnapped Malishka. Virendra opens the door. Malishka starts beating herself up and asks Kiran how is she looking. Kiran asks Malishka if she has gone mad. Malishka says she has not gone mad and says now she is looking like completely beaten up and says nobody will think they will beat themselves up. Malishka asks Balwinder to record her. Malishka asks Kiran to slap her so that she will look even more pitiful. Kiran slaps Malishka and asks her to stop this drama.
Episode ends.
Also See: