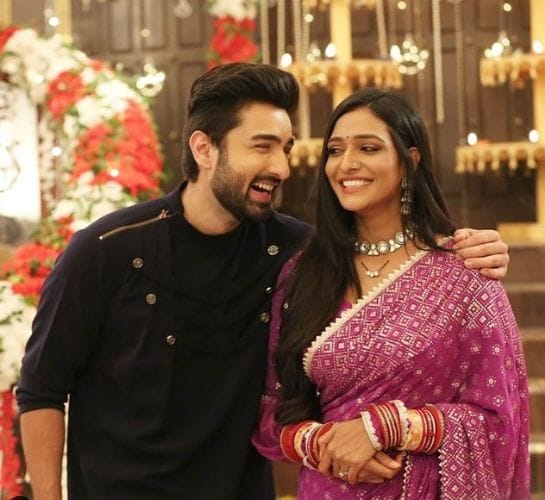 BhagyaLakshmi 20th September 2022 Written Update On TellyExpress.com
The episode starts with Lakshmi and Rishi bickering with each other. Monish asks them if their drama is over then they can get to the main point. Commissioner meets with the Home minister. The commissioner shows the Home minister about the three leaders and talks to the minister about them. Commissioner calls ACP and tells him something on the phone.
The 3 terrorist leaders feel elated that they are getting released. They talk about Monish and praise him.
ACP calls Monish and tells them that his 3 leaders are going to be released. Monish feels elated hearing this and asks ACP for a helicopter and a car. After talking to the ACP he tells the terrorists that their demands are accepted and they are going to leave. The terrorists celebrate their victory. Rano and all the hostages request Monish to release them. Monish hearing this says he will give them a gift and says it is the death of Rishi and Lakshmi.
ACP and the inspector talk about what is happening. ACP says to the inspector that they are not going to leave the terrorists but they will hang them this night instead of tomorrow. ACP says they will do a party thinking they got their way but we will crash their party. The inspector agrees. A special task force is seen to be entering the court to save the hostages.
Monish threatens to kill Lakshmi. Rishi says he will kill him if he did anything to Lakshmi. Monish starts playing the death game with Lakshmi by taking off all the bullets and just leaving one bullet in the revolver to test her luck. Monish starts playing the game by shooting but the Lakshmi's luck saves her. Malishka talks to Ayush and says they have to do something or Monish will kill all of us. Ayush agrees with Malishka and comes up with an idea to blindfold all of them and take their weapons from them. Rishi sees that all the hostages are trying to do something and he decides to make sure all the attention stays on him.
Rishi asks Monish to shoot him instead of Lakshmi. Lakshmi does the same. She asks Monish to shoot her instead of Rishi. Ayush blindfolds Monish and tries to take his gun away from him. Everyone takes a cloth and blindfolds the terrorist that is near them. It creates confusion between the terrorists and the hostages. When Ayush and Monish are struggling for the gun it accidentally fires and Rishi unties himself from the death rope. Monish shouts everyone to stop. Rishi and Monish point a gun at each other. Monish threatens he will kill Rishi.
Rishi also says he also has a gun and he will kill him. Monish reminds Rishi that this gun has only one bullet. Virendra pushes a gun to Lakshmi with his foot and points Lakshmi to the gun. Lakshmi takes the gun. Monish seeing Lakshmi with the gun laughs at Lakshmi and dares Lakshmi to shoot him. Monish gets injured because of a gunshot. The ACP along with commandos surround Monish and capture him.
Everyone praises Lakshmi for shooting the terrorist. Lakshmi says she didn't shoot Monish. Then everyone understands that the cops shot Monish. Monish asks the ACP "you were about to accept my demands right?" ACP says to Monish it was just a trap laid out for him and says his 3 gang leaders are going to get hanged today and along with them he will also be hanged.
Virendra slaps Monish and says this is for misbehaving with Lakshmi. Virendra calls Neelam. Neelam comes and slaps Monish and says not to ever think of Indians as weak people. Lakshmi also says to Monish that she is feeling pity for his family and what they have to go through because of him. Monish says Rishi is inauspicious. Lakshmi slaps him and says Rishi is not inauspicious and says everyone is made by God and how can a person who was made by God be inauspicious? Lakshmi says to Monish never to call another person inauspicious.
Episode ends.
The episode starts with Malishka seeing that all her family is caught along with Oberoi family. Malishka looks for Rishi. Abhay asks Malishka why did she come here. Malishka asks Lakshmi if she is happy and blames Lakshmi. Malishka sees Rishi hanged by a death rope and he is standing on ice. Malishka goes to Rishi and asks him "why did you come here?" Malishka says she will make everything right. Malishka goes to Lakshmi and asks Lakshmi to ask the terrorist to release them in exchange for her life. Lakshmi says she asked the terrorists to allow all of them to leave in exchange for her life.
Monish calls ACP and tells the ACP if the government doesn't agree to his demands then he will Rishi and his whole family. ACP says he sent his demands to the higher ups and requests for some time. Monish threatens the ACP that he will kill all the hostages.
ACP calls the commissioner and tells the commissioner what Monish said to him. ACP asks permission to go in and handle the terrorist. The commissioner says it is not in his hands and says he will talk to the home minister about this matter. A reporter hears this and gives the breaking news that Monish said that he is going to kill Rishi and his family if they don't agree to his demands. The cops capture the reporters and take away their cameras. The cops scold the reporters and ask them to go away. Devika sees this and prays to God for Rishi and his family well being.
Also See: