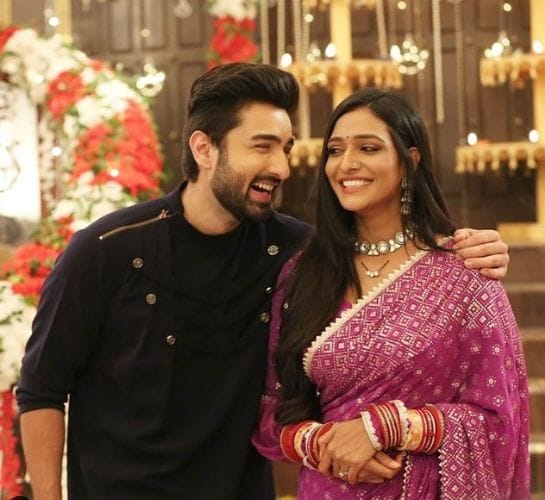 BhagyaLakshmi 21st December 2022 Written Update On TellyExpress.com
The episode starts with the judge asking the Oberoi family for their opinion on Rishi and Lakshmi's relationship. Neelam tells the judge that Rishi got into trouble because of Lakshmi and says Rishi overlooked Lakshmi's problems. Virendra says Lakshmi saved Rishi every time. Rano also praises Lakshmi. Karishma says Lakshmi is an unlucky girl. Dadi scolds Karishma for talking like that infront of the judge. The judge asks Neelam if she has anything more to add to what she wants to say. Neelam says no. Neelam says to the judge she should have understood what she wants to say. Virendra also says the same. The judge asks the family to stay outside and says she has to talk personally to Rishi and Lakshmi. The family goes outside. Ayush reminds Rishi that he has to say three words to Lakshmi. Ayush and Dadi leave Rishi and Lakshmi.
The judge asks Rishi and Lakshmi what is their decision. Virendra argues with Karishma for talking like that infront of the judge. The judge comes out and asks why are they still here and says Rishi and Lakshmi already left. Neelam asks what judgment she gave. Rishi and Lakshmi leave in a car.
Virendra asks the judge what judgement did she give. The judge says she only accepted their decision and stamped the government stamp on it. Virendra thinks Rishi and Lakshmi didn't get divorced and thanks God for it. Neelam asks the judge if they got the divorce or not. The judge says she asked Rishi and Lakshmi if they want divorce or not. Rishi and Lakshmi stay silent at first but Rishi recalls the word he gave to Neelam and says he wants a divorce. The judge asks them again. Rishi and Lakshmi say at the same time that they want divorce. The judge gets surprised hearing this and asks Lakshmi if she wants any alimony. Lakshmi says she doesn't want any alimony. The judge agrees with their decision of divorce and says Lakshmi will stay there until her other arrangements. Rishi assures the judge that he will take care of everything for Lakshmi. The judge comments on his behaviour.
The judge says she had to give them a divorce as it is their decision. The judge leaves from there. Neelam, Karishma, Malishka, and Sonal celebrate while Virendra, Ayush, and Dadi think how can this happen? Ayush asks Dadi to question Rishi and Lakshmi how can they take this decision.
Rishi asks Lakshmi if they can't take back their decision and says he gave her divorce because he deceived her. Rishi asks Lakshmi not to leave him and says he will set everything right. Lakshmi says how can he do that and asks him if he is going to erase what he did with Malishka and says he broke her trust. Rishi says he wants to earn back her trust. Lakshmi says it is not possible and everything is over.
Sonal asks Malishka for a party. Malishka says there is still time for that and says Rishi and Lakshmi still didn't tell everyone the reason for their divorce. Sonal agrees and asks Malishka if Lakshmi is going to tell what she saw. Malishka says Lakshmi would never do that. Sonal asks then what about Rishi. Malishka says she doesn't know. Sonal says then they can tell everyone. Malishka agrees. Lakshmi recalls her moments with Rishi and cries to herself. Rishi sees Lakshmi crying because of him and tries to console her but he hesitates and leaves from there. Rishi looks at himself in the mirror and cries over hurting Lakshmi.
Episode ends.
Also See: